A California woman who has been visiting her mother's gravesite in San Diego for the past 17 years made a shocking discovery during her most recent trip: her mother's tombstone was missing.
Cemetery officials told NBC 7 the grave marker was placed in storage temporarily while crews repaired damage from a broken pipe.

Vanessa Nevarez, of Sacramento, California, was young when she lost her mom, Christina Nevarez. Her mother is buried at the Holy Cross Cemetery on Hilltop Drive in San Diego's Chollas View community.
Nevarez visits the cemetery at least four times a year to pay her respects. For her, the site has been a place of peace and comfort, where she can grieve the lasting pain of losing her mother.
Nevarez went to the Holy Cross Cemetery on Monday with intentions of leaving flowers on her mom's gravesite. But, when she arrived, she couldn't find her mother's grave marker.
She searched and searched, and eventually asked groundskeepers for help. They tried to help Nevarez find the tombstone but turned up short. They were stumped.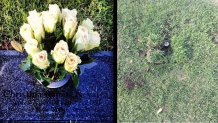 Nevarez returned to the cemetery on Tuesday. She said groundskeepers told her the grave marker was found in a storage area within the cemetery. It had been removed months ago when a pipe burst and saturated the grave site.
Although relieved to learn the tombstone had been found, Nevarez said she's upset that the cemetery didn't notify her of its removal.
"I want to find out what needs to happen for this not to happen to anyone," Nevarez told NBC 7. "When I spoke to the assistant of the cemetery, he said that he has worked here for 30 years and has never seen something like this."
The marker has been reinstalled.
A spokesperson for the diocese, which owns Holy Cross Cemetery, said the incident was a horrible mistake: "We care deeply about the loved ones entrusted in our care. They are members of our Catholic family. We will look into this family member's concern and get back to her as quickly as possible."
Nevarez and her family have hired an attorney to investigate the incident. The attorney, Sean Jones, told NBC 7 there have been similar cases like this in Southern California.
Holy Cross cemetery is owned and operated by the Catholic Diocese of San Diego. The cemetery was dedicated in 1919 and expanded over the decades. According to the cemetery's website, more than 65,000 people have been interred at the site.