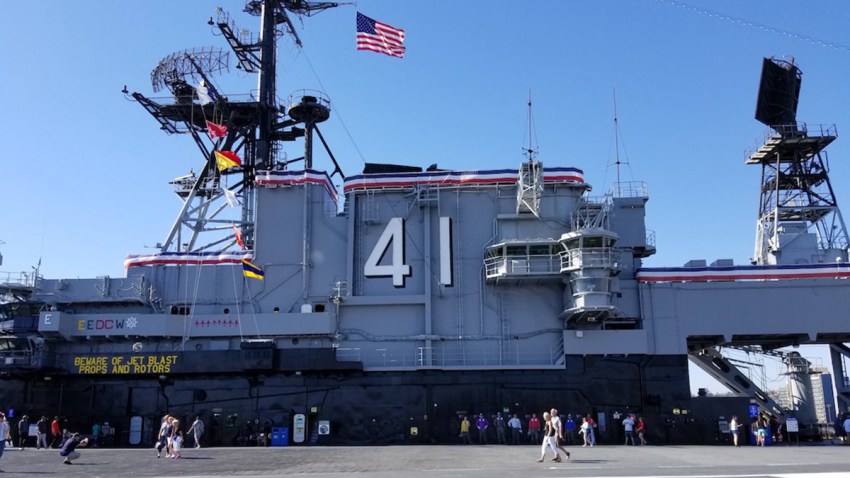 One of the best museums in the country is docked in San Diego Bay, according to the travel website TripAdvisor.
The USS Midway Museum was ranked number five Wednesday on TripAdvisor's "Travelers' Choice Award for Museums in the U.S.," which used a years-worth of reviews and ratings on their website and an algorithm to determine its rankings.
The interactive museum aboard a once-operational aircraft carrier allows guests to explore nearly 10-acres of exhibits and displays, which includes restored aircrafts, helicopters and flight simulators.
The National 9/11 Memorial & Museum in New York City was ranked as the nation's best museum, according to TripAdvisor. Here are the rankings:
The National 9/11 Memorial & Museum — New York City, New York
The Metropolitan Museum of Art — New York City, New York
The National WWII Museum — New Orleans, Louisiana
Art Institute of Chicago — Chicago, Illinois
USS Midway Museum — San Diego, California
National Air and Space Museum — Washington, D.C.
American Museum of Natural History — New York City, New York
The Getty Center — Los Angeles, California
NASA Kennedy Space Center Visitor Complex — Titusville, Florida
United States Holocaust Memorial Museum — Washington, D.C.
The USS Midway Museum was established as a nonprofit organization in 1992, and opened as a museum in San Diego in June 2004. The Midway turned 72 years old on Sept. 10, 2017.
Visitors are invited to enter the floating city at sea and walk in the footsteps of the 225,000 Navy sailors who worked and lived on the Midway over its service life, exploring the galleys and sleeping quarters aboard the carrier.
The museum features more than 60 exhibits and a collection of 29 restored aircraft. Visitors can enjoy a self-guided audio tour, narrated by USS Midway sailors, and also test out two flight simulators.
It is open daily from 10 a.m. to 4 p.m. (closed on Thanksgiving and Christmas Day). General admission at the gate costs $21 for adults, $18 for senior citizens, $15 for students, $8 for retired military (with valid ID), $10 for kids ages 6 to 12 and free for children age 5 and younger. Active duty military service members and law enforcement get in free, with a valid ID.
The USS Midway slowly rose through the ranks at TripAdvisor. In 2013, it was 13th and in 2015, it was ninth, according to a spokesperson for TripAdvisor, Elizabeth Monahan.