As American athletes take to the mat Wednesday to compete for gold in women's wrestling, an El Cajon mother will be standing behind them, cheering them on as she pursues her Olympic dream.
If the U.S. women take gold in the sport, it will be an Olympic first. The wrestlers looking to make history won't have to look far to find a familiar face who helped pave the way in their sport.
Afsoon Johnston, the U.S. women's wrestling freestyle coach from El Cajon, helped create the path to the Olympics for her athletes when she first moved to California decades ago.
In 1984, Afsoon's parents came to San Jose seeking political asylum. In Northern California, she learned English and pursued the all-American dream as a cheerleader.
But at Independence High School, a school known for its state championships in wrestling, cheerleaders doubled as stat girls.
"When I started keeping stats for the wrestling team, I thought I know this team, I know this technique and I can beat the current 98-pounder out there," she said.
The coach said he legally couldn't stop her, but wanted to talk to her father.
"'I don't think your father is going to want you wrestling boys,'" she recalled. "So he called my dad and my dad said, 'This is great, of course she can wrestle.'"
Not only did Afsoon beat the 98-pounder, she then went on to wrestle all four years. She finished with a winning record after competing against only men.
At UC Davis, she became one of the first official female NCAA wrestlers and went on to win the first-ever world medal for the U.S. team.
Afsoon said she never imagined wrestling in the living room as a child would turn into long list of historic accomplishments.
"We would wrestle in the living room and move the living room table, and my dad would teach me technique and my mom would referee our matches," she said.
Afsoon was born in Tehran, Iran. Wrestling is the national sport in Iran, as long as you're a man.
But her father, a progressive thinker and champion wrestler himself, only had one child and so she would follow in his path.
"I think my father had always wanted to pass on the wrestling to his son, and of course he ended up never having a son, and looking at me, I was his only hope to continue the sport in the family," she said.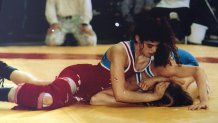 Afsoon's daughters haven't followed in their mother's footsteps yet - all three of her children play club soccer. They say despite the occasional headlock, the thought of her wrestling just seems weird.
"I just cant imagine her wrestling back then, she is just a nice mom, don't see her mean," one of her children said.
Afsoon once dreamed of competing in the games herself, but at the twilight of her career, picked starting a family instead.
"So she couldn't go because I was going to be born, so she calls me her Olympic gold medal cause she never got to accomplish that medal," her daughter Samira, 11, said.
"It's part of the puzzle that completes me," Afsoon explained. "I am a wife, I am a mom, I am a daughter, but I'm also a wrestler and there's no reason as a woman you can't have all of that."
As a coach, Afsoon can't win a medal or carry the title Olympian.
But in Rio, she'll be in the shadows, watching young women carry the legacy she helped create, by beating the boys.