U.S. Vice President Mike Pence met with military servicemembers during a visit to San Diego Thursday, including a U.S. Coast Guard team that helped seize nearly 40,000 pounds of cocaine from the Eastern Pacific Ocean.
The Vice President's visit to San Diego included a tour of Naval Amphibious Base Coronado, a meeting with the U.S. Coast Guard, and a private fundraiser in Rancho Santa Fe.
As Pence's day began Thursday, San Diegans lined the streets of Coronado to catch a sight of his motorcade as it traveled from his bayfront hotel in downtown San Diego to NAS Coronado, where he was greeted by hundreds of servicemembers before a private tour of the base.
Pence then traveled to Naval Air Station North Island and took the podium aboard the Coast Guard Cutter Munro. He welcomed home hundreds of servicemembers from a three-month deployment in the Eastern Pacific.
"You truly are gallantry in action. Let's hear it for the men and women of the United States Coast Guard Cutter Munro. Job well done," he said to applause. "This cutter is full of patriots."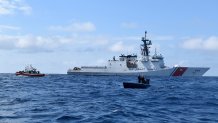 The crew, on their first mission, was part of 14 operations between May and July that netted an estimated $569 million-worth of drugs, including 39,00 pounds of cocaine and 933 pounds of marijuana.
"Transnational criminal organizations are relentless in their efforts to bring cocaine across our borders. Just last week, CBP made the largest cocaine seizure in the history of Customs and Border Protection. They seized a ship that was found to have more than $1 billion worth of cocaine on it -- on just one ship," Pence said.
Pence went on to discuss USCG's battle with drug trafficking -- what the vice president called a "crisis at our southern border"
"Not all of the battle that we fight is on the seas – you know, as my fellow Americans, we have a crisis at our southern border," Pence said. "The transnational criminal organizations in Mexico and Central America and the cartels that fuel their deadly trades represent one of the greatest national security and public health threats to the American people."
Pence said "no other group is currently positioned to challenge" Mexican drug cartels.
"The drugs that they bring across our border costs us lives and billions of dollars in health care expenses. They result in crime in our streets and tear apart our communities," he said.
The vice president also referenced the journey many migrants take to try and enter the U.S.
"These criminal organizations in Central America are also helping to fuel the crisis at our southern border by literally driving thousands of vulnerable families out of their homes to take the long and dangerous journey north," Pence said.
Meanwhile, Second Lady Karen Pence met with military spouses to discuss employment solutions for partners of servicemembers.
The Second Lady called military spouses "homefront heroes" and thanked them for their, significant role in the defense of our nation."
The Pences' trip concludes with a private fundraiser for President Trump's re-election campaign in Rancho Sante Fe.
The Vice President arrived at San Diego International Airport aboard Air Force Two Wednesday night and was met by a large applause when he stepped off the plane.
He met with a large group on the tarmac for about a half-hour before he was loaded into an SUV and taken to his hotel. He did not stop to answer any press questions.
The visit is Vice President Pence's first trip to San Diego since the election. Last year, Pence made a trip to Calexico in Imperial County for a tour of the border region.
Pence's stop into San Diego followed visits to two other California cities Wednesday: Lemoore and Lompoc.
While Pence spoke to farmers at a victory luncheon in Lemoore for President Donald Trump, Karen Pence visited the Lemoore Naval Air Station to talk to military spouses about employment opportunity.
Pence also toured Vandenberg Air Force Base in Lompoc and spoke before about 400 Air Force personnel. He addressed President Trump's Space Force idea and said Vandenberg would play a large role in it.
Air Force Two departed Washington, D.C. Wednesday morning with the Pences, Marc Short, the VP's chief of staff and Alyssa Farah, the VP's press secretary on board.