An suspect armed with a BB gun fired at a U.S. Postal Service truck in Mission Valley Friday afternoon, police confirmed.
The incident happened around 3:15 p.m. in the 1900 block of Camino De La Reina.
A U.S. postal worker was at a mailbox when one of the windows of his vehicle was shot out according to officials.
"He heard what he believed to be gunshots, shattered his window on his vehicle, turned out to be pellet fire from a BB gun," said U.S. Postal Inspector Ricky Vida.
The worker was not injured and even continued his rounds for the day.
San Diego Police began focusing on an apartment building across the street.
They fanned out and then, something pretty unbelievable happened: more shots were fired. No one was was hit.
"Initially we got that there were four that were fired at the original postal truck that caused the damage. That got police response," said Lt. Duane Voss with San Diego police.
"Subsequent to that, the officers estimate that there were maybe four to six more while they were on scene here."
Officers discovered the shots from a pellet gun were coming from a third-story corner unit.
When they moved in to make an arrest, officials reported yet another surprise.
Officers say they found the pellet gun and also an AK-47, and an illegally modified rifle.
Richard Cook, 34, was arrested on weapons charges and for firing at the postal worker, according to police.
Jonathan Hankla, 30, was arrested on narcotics charges after police say they found Oxycontin in the apartment.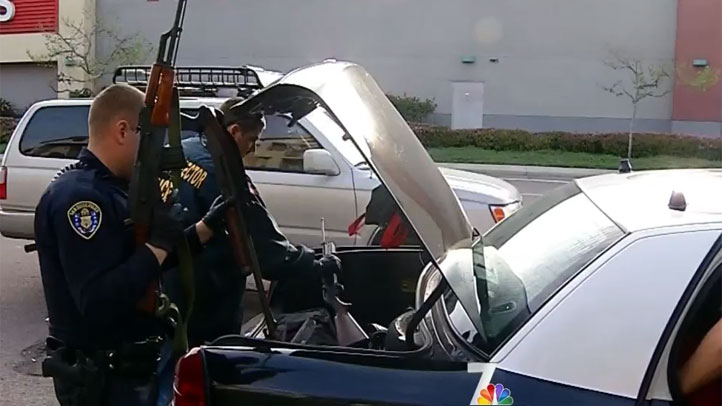 No injuries were reported, but the mail truck did sustain some minor damages.
San Diego Police were working with federal authorities. It was not clear if the suspects will be facing local or federal charges or possibly both.