A U.S. Marine's bracelet, lost almost 75 years ago in the Battle of Guadalcanal, was discovered buried on a New Zealand beach and has been returned to his family in San Diego County.
A couple were combing the beach in 2015 when they stumbled on the bracelet buried beneath 6 inches of sand. While vacationing in Hawaii the next year, they visited a military museum and began the process of trying to track down the owner of the bracelet.
"On the back was the date of 7 August 1942 at Guadalcanal and it had three other locations on the back, Honolulu, Australia and New Zealand," said Sgt. Maj. William T. Sowers. "On the front of the bracelet was the name H. Campbell and the service number."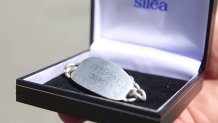 Using that information, the U.S. Marines managed to track down the owner's surviving children, Jim and Patti Campbell.
The bracelet belonged to Master Sgt. Harry Francis Campbell, who served with the 1st Marine Division and fought in the Battle of Guadalcanal. He was just 19 years old when he lost the bracelet.
Over the weekend, Marines on Camp Pendleton held a special ceremony as they returned the piece of jewelry to the veteran's family.
Jim Campbell said the family is grateful to receive the memento and the memories of his father that it holds.
"Respect to my dad," Campbell said. "I'm sure he is looking down on us - great thoughts, great memories and thank you to everyone involved."
The couple who discovered the bracelet watched the ceremony via Skype.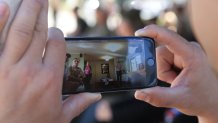 "The extraordinary effort the family in New Zealand, the Turners, went through," Sowers said. "It shows a special fortitude that not everyone has."
Campbell said his dad was a very proud Marine and would always introduce himself to fellow Marines and talk about the Battle of Guadalcanal.
Master Sgt. Campbell retired in 1945 and went on to serve in law enforcement. He passed away in 2013.
The U.S. Marines first landed in the Solomon Islands of Guadalcanal, Tulagi and Florida on Aug. 7, 1942. However, the Battle of Guadalcanal is often used to refer to six months of fighting that ended in February 1943 when the Japanese surrendered the island.