Fifty-five people have been indicted in connection with a massive North County heroin, meth and firearms trafficking ring, according to ten federal indictments unsealed Wednesday.
According to the U.S. Attorney's office, those indicted were responsible for supplying at least 25 percent of North County's heroin and methamphetamine. The ring also supplied significant quantities of heroin to a distribution ring in Kingman, Arizona.
The defendants - 46 of which are in custody right now - include prominent drug dealers and documented gang members, and were involved in a variety of crimes, including drug distribution, firearms trafficking, robberies, vehicle thefts, burglaries and assaults.
One house that was the center for much of the distribution of drugs is just steps away from Vista High School.
Patty Jennings has a son who is a senior at Vista High and told NBC 7, drug activity has plagued the neighborhood surrounding the school for years.
"It's not safe. It's not safe at all. I don't even let my kids leave their cars here if they're going to be gone even on a school function very long because as hard as they try with security, it's not safe," Jennings said
According to charging documents, defendant Yadira "Pini" Villalvazo, a Mexican national and Vista High School graduate, allegedly led a trafficking organization where she used dozens of street gang members to distribute heroin.
Villalvazo, an associate of the Vista Home Boys street gang for a period of time, was later deported for a federal drug trafficking conviction in 2002.
In Mexico, Villalvazo allegedly runs her own Sinaloa Cartel-linked organization, according to charging documents.
The tens of thousands of dollars the ring grossed in the San Diego region were sent back to Mexico, according to court documents.
After a yearlong investigation lead by the North County Regional Gang Task Force, more than 150 members of the task force, in addition to other law enforcement agencies, arrested numerous suspects in more than 20 locations in Oceanside, Vista, Kingman, Arizona, and other North County locations.
Fourteen suspects were arrested Wednesday morning, and several others were arrested earlier in the week, or were already in custody. Seven defendants, two of which are in Mexico, are still on the loose.
According to authorities, Andrea Ball and her boyfriend, David Siladji, two of the suspects charged, would use the house to distribute drugs.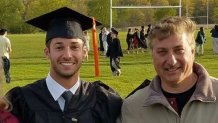 The investigation involved months of federal wiretaps, dozens of undercover drug and gun buys and extensive surveillance.
"Today we've taken out one of North County's largest heroin suppliers," said Acting U.S. Attorney Alana Robinson in a statement. "This crackdown is our most significant response to date to the heroin epidemic ravaging our communities. We anticipate seeing a huge impact now that these defendants are removed from our community, particularly in the North County cities of Oceanside, Vista, San Marcos and other areas plagued by gangs."
Authorities seized heroin, methamphetamine and 25 firearms, including handguns, revolvers and assault rifles.
The drugs and guns were being sold in North County neighborhoods, including across the street from Vista High School, according to the U.S. Attorney's office.
The gang task force also targeted major methamphetamine distribution cells connected to North County street gangs during the investigation, including rings allegedly led by Sabrina Yzaguirre, Ivan Bazan - also known as "Dreamer" - and Jorge Enrique Jara Cervantes, also known as "Scorpion."
Pound quantities of methamphetamine were distributed to Alabama and Tennessee in a ring allegedly led by Cervantes.
Between 2011 and 2015, meth-related deaths in San Diego County have increased more than 80 percent. Heroin deaths in the County have doubled in the last decade, even with the use of naloxone. Heroin treatment admissions have risen in the County ever year since 2011.