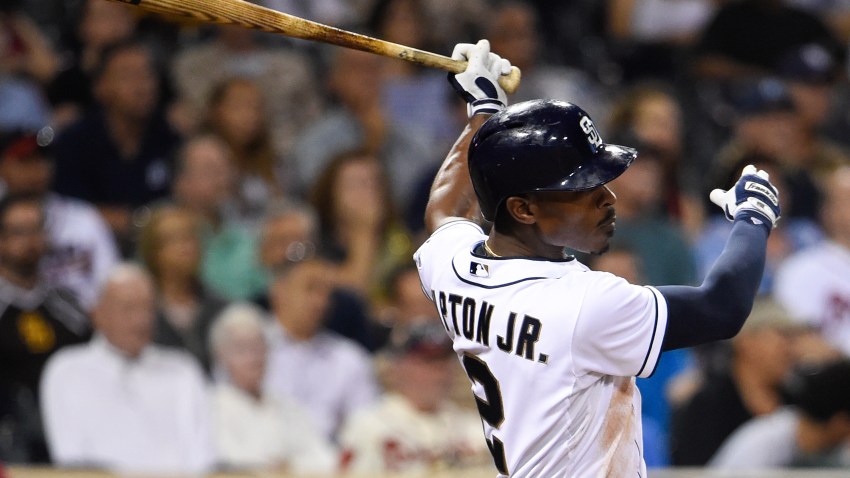 When the Padres made that eve of Opening Day trade with the Braves to get closer Craig Kimbrel the really big negative in the deal, even more than parting with a pitching prospect as good as Matt Wisler, was taking on the contract of Melvin Upton Jr.

A few years ago the elder Upton brother was one of the best young players in baseball. Remember this is the guy who hit 7 home runs in 16 games of the 2008 post-season, helping the Rays reach their only World Series, and he was only 23 years old at the time.

Upton had a few more productive years in Tampa before signing a big-time free agent contract with Atlanta. That's when those proverbial wheels flew off his career.

Upton only batted .198 in two seasons with the Braves, making his 5-year, $72.25 million deal look like one of the worst in baseball history. When Upton was dealt to San Diego, he got off to another slow start. But lately, quietly, he's been looking like the Tampa Bay version of Melvin Upton.

"I just cleaned some things up and got things where I feel pretty consistent," said Upton after helping his new team complete a sweep of his old team.

Over the last month (going back to July 20) Melvin Upton Jr. has put up a .281 batting average while slugging a robust .484. Those are interesting increases for a guy who's coming to a ballpark not exactly know for offensive excellence. So … what's gotten in to Melvin?

"Just seeing the ball better," says Upton. "Nothing really big. Just getting in a comfortable spot and swinging the bat."

Seeing the ball is something both Melvin and his younger brother Justin have said they do very well at Petco Park.

"The background is definitely pretty good, better than some other parks," says Upton. "It's a big blue wall out there so it's a pretty good place to see the ball."

But even more than that, the trade gave Upton a chance to hit the reset button on his career.

"It's great to see Melvin really come in to his own and gain some confidence," says Padres manager Pat Murphy, who was managing at Triple-A El Paso when Upton came through for a rehab assignment. "It doesn't matter how old you are or how much experience you have. Confidence is such a key in everything you do and to see Melvin gain some confidence is pretty special."

Melvin does not deny a change of scenery has been good for him.

"I think the fresh start has a lot to do with it. Unfortunately things didn't go the way I wanted them to the last two years but, like I said, it's a fresh start, a new club, the coaches here are behind me and I'm having fun."

Melvin Upton Jr. turns 31 years old on Friday. If he keeps showing the form he has the last month in San Diego that albatross of a contract might end up being a decent deal after all.