There is a 95 percent chance the upcoming El Nino will soak San Diego and the rest of Southern California through spring 2016, weather experts told San Diego city leaders at a preparation hearing Wednesday.
The El Nino, predicted to be one of the strongest compared to the 1997 event, will dump heavy rains on Southern California and bring an especially wet winter to the region.
Scientists from the Scripps Institution of Oceanography joined officials from the City's Transportation and Storm Water Department and the San Diego Fire-Rescue Department at a storm preparations hearing Wednesday, talking to members of San Diego City Council's Committee on the Environment about the expected weather.
Scientists from Scripps told the committee their models predict a very wet winter with heavy rains.
Kris McFadden, the transportation and storm water direction with the city of San Diego, said the city has to be prepared for anything.
"We're seeing maybe the same amunt of rain over a shorter period of time, that's a big thing we have to remember," said McFadden. "Even an inch of rain over an hour can cause damage and flood affects."
Flooding was a concern addressed by both scientists and city officials at the meeting Wednesday. Scientists cautioned that San Diego could see tides up to six inches higher than usual, which may lead to damaging storm surges and flooding all along the coast.
A recent study by the National University System Institute for Policy Research (NUSIPR) found that approximately 55,000 residents across San Diego County live in 'unique' 100-year flood zones that are susceptible to damage during the upcoming El Nino and approximately 5,000 businesses are located in areas susceptible to flooding.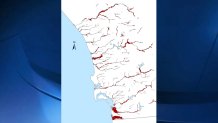 The study also found that past El Ninos have left millions of dollars in economic losses and have had a widespread physical impact on the county.
Heading into the El Nino season, officials said they have a new prioritization process on how to tackle the expected reffects.
When the storms come, the city's stormwater division said they will have more than 200 field staff members on patrol and will expand staffing after hours to assist residents.
Those staffers will have mobile pumps ready for low lying areas, especially the ones affected by high tides, they said.
"While we put forth an unprecedented effort to manage flood risk, there is no guarantee there will not be flooding this year," McFadden said. "I cannot emphasize that enough."
SDFD officials said they would also prepare for the upcoming season by having mobile pumps ready for low-lying areas, especially the ones affected by high tides.
Lifeguards and firefighters will form a 19 member team that specializes in swiftwater rescues.