A man admitted Wednesday to donning scuba gear and taking vacuum-sealed packages of drugs through an underwater tunnel from Mexico into the U.S., according to the defendant's plea deal.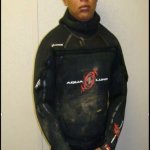 Evelio Padilla-Zepada, a 28-year-old Honduras immigrant who came to the U.S. illegally, was arrested in the unusual operation on April 25. Assistant U.S. Attorney Sherry Walker Hobson, who prosecuted the case, told NBC 7 she has never seen a smuggling scheme so complicated. It involved a tunnel that led to a canal.
A video surveillance operator had alerted Border Patrol agents to a man standing along the All-American Canal, just east of Calexico and north of the border.
There, agents discovered Padilla-Zepada soaking wet, dressed in a wet suit, prosecutors say in an Aug. 18 statement of facts against him.
Padilla-Zepada was taken into custody, and agents began searching the area nearby. Several feet from where the suspect was arrested, they uncovered scuba diving gear — including two rebreather tanks — and packages of cocaine with weights attached to them. The rebreathers would keep bubbles from rising to the surface, Walker Hobson said.
[G]Border Patrol Discovers Underwater Drug Tunnel
All 25 packages were covered in "Toy Story"-themed wrapping paper and vacuum-sealed, officials said. The cocaine inside totaled about 55 pounds, with an estimated street value of $1,774,400.
Continuing their search, Border Patrol agents came upon an underwater drug tunnel. The U.S. attorney's office says the passageway started in Mexico on dry ground, descended into water and exited directly into the south bank of the All-American Canal.
In the dry section, the smugglers had built a rail system to transport the drugs, according to prosecutors.
"Drug traffickers always try different ways to go over the border, under the border and through the border. And this was a creative way. But they got caught," said Walker Hobson.
In his plea deal, Padilla-Zepada admitted his intention was to swim 1.5 miles up the canal, drop off the cocaine at a meeting point farther down the canal and then return to Mexico, but he was caught before he reached his intended location.
On Wednesday, Padilla-Zepada pleaded guilty to one charge of possession with intent to distribute cocaine. At his Dec. 7 sentencing, he faces 20 years in prison and a $1 million fine.
NBC 7 reached out to Padilla-Zepada's defense attorney, Manuel Ramirez, but he said they will not comment until possibly after the defendant's sentencing.
The tunnel's exit point into the U.S. is about two miles east of Calexico, where Barbara Worth Road ends and turns right into Anza Road.