Mournful whimpers and whines echoed for days before a man followed the sounds and discovered two Labrador retrievers trapped in an underground pipe in Fallbrook.
Crews rescued the dogs that are now recovering at a County Animal Services facility in Carlsbad, said a spokesperson.
"We estimate the dogs were in the drain for at least three days," said County Animal Services Director Laurie Joniaux, in a statement. "It's amazing they're actually doing so well."

While tending an orange and avocado grove, the man heard the dogs' piercing cries. But he didn't think much of it at first, said officials.
Day after day, he kept noticing the tragic whimpering sounds. Last Saturday, he decided to investigate the source.
He followed the direction of the sound and eventually found a pipe running underground. The man started to dig until he struck metal.
When he reached the pipe, he was able to cut a part of it away. Inside, he found a skinny and dehydrated retriever. County Animal Services officials said he requested help from County Animal Services.
With more shoveling, Animal Control Officer Cortney Pache was able to pull out the black and white female dog, according to officials.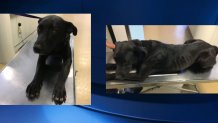 She was shocked to discover yet another dog was still stuck in the pipe.
And the second dog wasn't any easier to save. Crews cut away more of the pipe and kept digging until the second larger male Labrador retriever was pulled out.
Amazingly, the dogs weren't injured through their entire ordeal, said officials. However, the male was so feeble he could not stand. Both were dehydrated and very thin. The dogs were taken to a veterinary urgent care facility where they devoured food.
Crews later discovered a hole on top of a nearby hill that apparently leads to the underground pipe. They believe the dogs most likely fell through the hole and ended up in the pipe.
Then, the Labradors got stuck inside and could not get out.
County Animal Services officials said the male is 5-years-old and the female is about 2-years-old. Currently, they're in good care at the animal care facility.
Both dogs lacked ID and will be held through the close of business on Wednesday. The facility will see if an owner comes forward until then. Otherwise, the two dogs will go up for adoption on Thursday.
County officials said the dogs are gaining weight. Despite their traumatic experience, the dogs are still very friendly.
For further information call County Animal Services at (619)767-2675.