The Sally Ride Science Junior Academy has educated more than 400 students over the course of three weeks and is helping to close the gender gap in science and technology careers, according to Cindy Marten, superintendent of the San Diego Unified School District.
The academy, in its first year, is part of a partnership between UC San Diego and Sally Ride Science, an education company co-founded by Sally Ride, the first woman in space.
"Half of the jobs today in our society require some type of technical background," Marten said. "In the next decade, it is predicted that number could climb to 75 percent. We're not going to be able to fill those jobs unless we start attracting more and different students to those fields. Sally Ride Science at UC San Diego Junior Academy is helping to inspire the next generation of innovators."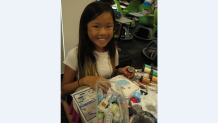 Held at UC San Diego, the students learn science, technology, engineering, art and math (STEAM) through hands-on-workshops, including the science of earthquakes, space exploration, oceanography, robotics, 3-D modeling and virtual reality.
The academy is concentrated on expanding the interest and ability of young women in scientific fields, offering 150 scholarships focused on girls in 6th to 12th grade.
"This program is about more than technical know-how. It is about sparking an interest and then showing these students the path forward," Karen Flammer, co-founder of Sally Ride Science and its current director of education, said. "In this economy, technical know-how is not enough. You need creativity to innovate and that's why it is so important that we incorporate arts with science technology, engineering and math."
The curriculum, a collaboration between UC San Diego extension, the San Diego Super Computer Center and Scripps Institution of Oceanography, is taught largely by scientists at Scripps.
Ed Abeyta, assistant dean of community engagement and pre-college programs for UC San Diego Extension, hopes to expand the program into the school year.
"This summer we've seen the interest and demand is there for this type of STEAM programming," Abeyta said. "It's clear we need to provide even more opportunities for students throughout our region to access this best-in-class STEAM education."