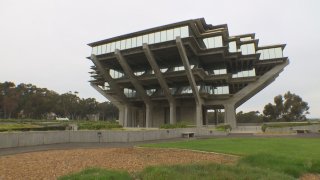 The University of California San Diego earned a five-star rating in Money's "Best Colleges in America 2023" list.
According to a news release, five stars is the highest available from the outlet, and UC San Diego was one of only 13 public universities in the nation to receive such a rating.
Chancellor Pradeep K. Khosla said the rating "is a testament to UC San Diego's commitment to both educational quality and value."
"Our UC San Diego students embark upon a world-class educational journey that equips them with the skills, knowledge and experience to drive positive change in our society -- and we are proud to offer this elite education at an affordable price," Khosla said.
Rather than use a numbered ranking, Money redesigned its analysis this year to rank schools from one to five stars. Thirty-four colleges in the United States received the highest rating.
Money ranked schools on 26 factors in three categories: affordability, education quality and outcomes. It also looked at alumni salaries, attendance cost, financial aid and graduation rates.
Money described UC San Diego as "one of the top research universities in the world," and is "renowned for its science programs and stellar faculty."
A Money online article also mentioned faculty members, including Ken Anderson, who leads the school's gospel choir course. Money also praised Lin Chao, a professor in the Department of Ecology, Behavior and Evolution for "describing complex science concepts through stories."
UC San Diego was recently named No. 7 among U.S. public universities in the latest Center for World University Rankings, and among the nation's top 10 public institutions in the Princeton Review's "2023 Best Value Colleges."
The full Money article can be found here.
Copyright CNS - City News Service