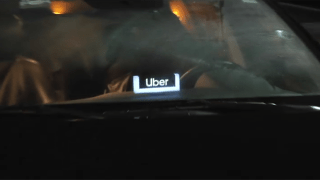 An Uber driver suffered an apparently non-life-threatening bullet wound Tuesday afternoon when a fare pulled a gun and opened fire on him during an argument between the two men in the Midway district, police said.
The shooting was reported at about 2 p.m., near the Ross Dress for Less store in the 3100 block of Midway Drive, according to the San Diego Police Department.
"This violent attack is alarming, and we are reaching out to support the driver," an Uber spokesperson told NBC 7. "We are grateful for the quick actions by San Diego Police officers in arresting the suspect," they added.
Following the gunfire, the shooter ran off along with a female companion, SDPD Officer Sarah Foster said. Paramedics took the victim to UCSD Medical Center in Hillcrest for treatment of a leg wound.
Less than 10 minutes after the shooting, a patrol officer took the suspected gunman into custody behind a pet-supply store a short distance from the site of the crime. His name was not immediately available.
The suspect was unarmed at the time of his arrest, but officers recovered a handgun near the scene of the shooting at about 2:30 p.m., according to police.
The reason for the dispute that led to the gunfire was unclear.
Uber confirmed they have removed the account holder's access to the platform, adding that any act of violence goes against Uber's community guidelines, which users are expected to follow and agree to when they sign up to use the app.