Two teenage girls were hospitalized with serious injuries Monday night after they were hit by a car in Chula Vista, police confirmed.
The Chula Vista Police Department said the girls -- who are 14 and 15 years old -- were crossing Fourth Avenue in a marked crosswalk at around 7:40 p.m. They were walking eastbound at the intersection of Park Way when a driver traveling north on Fourth Avenue hit them. The area is east of Interstate 5.
Police said both teens were taken to local hospitals. As of 8 a.m. Tuesday, one girl was in critical condition, with life-threatening injuries. The second teen remains hospitalized and is expected to recover.
CVPD traffic-division Officer Michael Knapp said he did not know if the 14 or 15-year-old victim was the one who was critically hurt.
Overnight, flowers were placed at the scene of the crash.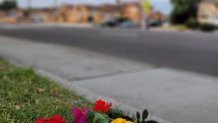 The driver who hit the teens is a man in his 60s. Police said he remained at the scene and is cooperating with the investigation.
The investigation into the cause of the crash is ongoing; right now, police do not believe drugs or alcohol were factors.
There is no word on where the girls were coming from or where they were going. Police said one of the teens lived near Chula Vista High School but it is unknown if one or both of the teens attend the high school.