New in the fallout from a controversial "twerking" video shot on the campus of Scripps Ranch High School: a school trustee is asking for answers and a parent feels the school should be held accountable.
NBC 7 Report: Dozens of Students Suspended for Twerking
More than 30 students were suspended Tuesday for sexual harassment after a music video was published on YouTube. In the video, shot with school equipment and on school property, SRHS students are shown "twerking" to music by the artist YG.
The students involved range from freshmen to seniors. Because of the school's special rules regarding senior activities, some of those suspended are also banned from attending prom or walking at graduation.
One Scripps Ranch mother whose daughter was pulled out of class to help a classmate produce his final project for media class said she was very disturbed by the clip.
"The fact that it happened on school campus, during class time, is even worse," she said.
"This took place over the course of three to four weeks so what I want to know is, none of the teachers saw this? Where was security? Where was the video teacher?" she asked.
Other parents and students have told NBC 7 that the suspended dancers thought the classmate was making the video as a school project.
The teenagers did not know the video was going to be published to YouTube, they say, nor did they know the music with offensive language would be added.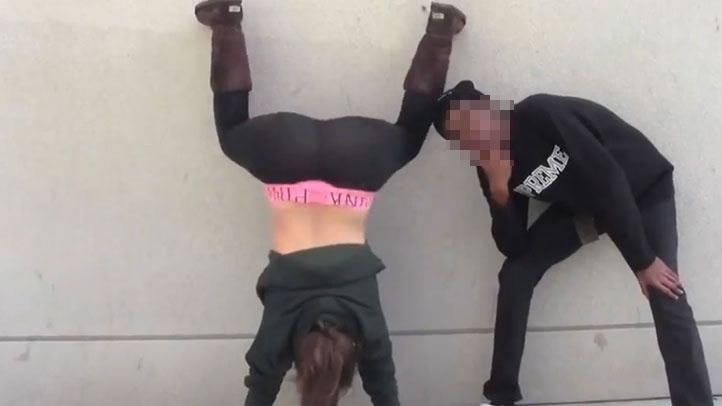 San Diego Unified Board Member Kevin Beiser said the A-V teacher gave students an assignment to make a music video so it would not be so unusual for students to be videotaping on campus.
Beiser said that "twerking" – especially while doing a handstand – is inappropriate at school and the kids know what they are doing when they are doing that.
The mother said her call to the superintendent has not been returned. She said she's unsure if her daughter can still go to prom.
"You get one shot at these things in life. You don't get do-overs with proms and graduations and things like that. I think that is excessive. Yes there should be punishment. They should've known better… but they're teenagers," she said.
Beiser said seniors who submit a letter admitting the mistake as part of the appeal process will most likely be able to go to prom or commencement.
San Diego Unified School District refused to comment on the suspension or on the teacher's role in the video production saying the district will not discuss student discipline.
SDUSD trustee Scott Barnett issued the following statement Thursday:
"As a father of two teen-aged daughters (in a different high school in San Diego Unified) I take issues of proper conduct and discipline very seriously; at the same time I need to be satisfied that the consequences of these actions are reasonable and proportionate. I have asked that the board discuss this at our next, regular closed session meeting scheduled on Tuesday, May 14."
The Scripps Ranch HS student handbook specifically outlines its sexual harassment policy prohibiting "verbal, visual, or physical conduct of a sexual nature made by someone from or in the educational setting."