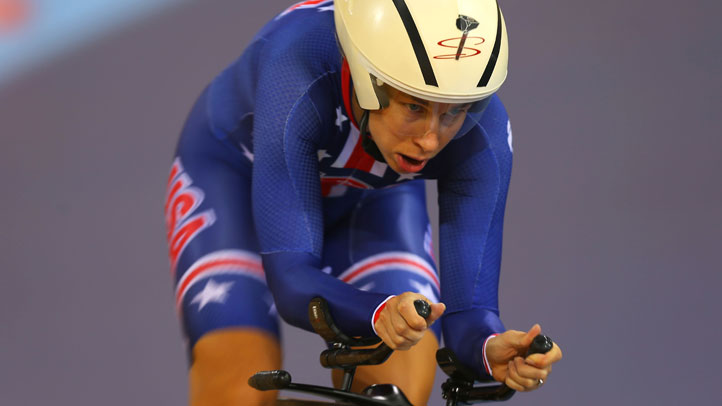 Veteran Olympians and gold medal contenders are among the local athletes competing in the London 2012 Olympic Games Tuesday.
One to watch today: Carmel Valley's Steffen Peters. The four-time Olympian is in medal contention as he competes in Individual and Team Dressage Grand Prix Tuesday at Greenwich Park.
Peters scored 77.705, good for sixth place when he rode Ravel Friday.
The Americans, seeking their first equestrian medal of the Games, are fifth as a team.
WHEN TO WATCH: Team Dressage at 7:45 a.m. PT on NBC Sports Network
La Jolla athlete Carrie Johnson, a three-time Olympian, finished in fourth place in the women's K-1 500m, just over a second behind first.
She failed to qualify in the event but the Olympics aren't over for Johnson.
She will compete in the heats for K-1 200m on Friday.
Bronze medalist Will Claye is at it again. This time, Claye and American teammate Christian Taylor attempted to become the fifth U.S. one-two finish in the men's triple jump since 1992.
On Saturday, Claye won the bronze medal in the men's long jump. Tuesday, Claye and Taylor qualified for the triple jump final on Thursday.
If Claye wins a triple jump medal, he'll be the first Olympian since Japan's Naoto Tajima in 1936 to win a medal in each horizontal jumping event at the same Games.
Chula Vista Olympic Training Center athlete Jamie Nieto competed in the finals for the high jump Tuesday, but came in 6th place jumping at 7-feet-5-inches.
At 35-years-old, Nieto is the oldest high jumper to ever make a U.S. Olympic Team. It was the first time since 1988 that three Americans have qualified for the high jump final.
American Erik Kynard placed silver in the high jump behind Russian athlete Ivan Ukhov, who jumped a staggering 7-feet-8-inches. The world record is 8 feet. See results here
At the midway point of the women's omnium, Temecula resident Sarah Hammer grabbed the psychological advantage over Britain's Laura Trott thanks to a scorching pursuit victory that gave her a one-point lead in the women's Olympic track cycling omnium on Tuesday.
The events today include the 3km individual pursuit, 10km scratch race and 500m time trial.
The United States women's team continues to pursue its first Olympic water polo gold medal today when it takes on Australia in the semifinal.
The match may look familiar to many fans because it's a rematch of the semifinal four years ago at the Beijing Games. In that meeting, the Americans won 9-8 behind three goals from Brenda Villa.
The winner will face either Hungary or Spain, who face off in the other semifinal.
WHEN TO WATCH: U.S. women's water polo vs. Australia 9:30 a.m. on NBC 7
Also Tuesday:
Kara Patterson, another Chula Vista OTC athlete, did not qualify in her event Tuesday. See results here
Coronado's Molly O'Bryan Vandemoer and her match racing team begin quarterfinals Tuesday against Finland.
Get Olympic updates: iPad App | iPhone App | Android App | Facebook | Twitter | Google+ | Instagram | RSS | Text Alerts | Email Alerts