What to Know
Dozens of protesters gathered throughout the county waving American flags and holding signs saying, "Stop the steal."
Local members of congress like U.S. Representatives Mike Levin, Sara Jacobs, Juan Vargas and Scott Peters have reported they are safe.
No injuries or arrests were reported in local protests
President Donald Trump supporters were seen around San Diego County Wednesday as members of Congress meet to confirm President-elect Joe Biden's victory.
Dozens of protesters gathered in the administration building midday waving American flags and holding signs saying, "Stop the steal" in opposition of the election results.
NBC 7's Artie Ojeda caught the moment a caravan was seen in Carlsbad.
During the afternoon, a group of protesters was also seen in Santee near Cuyamaca Street were waving flags and holding signs. No injuries or arrests were reported.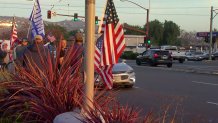 The National Guard and other federal agencies are being deployed to the U.S. Capitol after supporters of outgoing President Donald Trump stormed the building, the White House said. Four deaths were reported on or around the U.S. Capitol grounds, and several people were hurt, including officers, Metropolitan Police Department Chief Robert Contee said.
One of those people who died was a woman identified as Ashli Babbitt from San Diego. She was fatally shot by law enforcement when rioters stormed the U.S. Capitol.
Members of Congress were given gas masks and Vice President Mike Pence was taken to a secure location as chaos descended on the nation's capital during what is typically a routine part of a peaceful transfer of power.
Later at night, U.S. Congress returned to session to continue counting the Electoral Vote.
San Diego Mayor Todd Gloria sent out a statement following the events at the State Capitol:
"What we saw today in Washington was an assault on our democracy emboldened by the President of the United States. The violent actions of these extremists were infuriating and must be condemned by every American who believes in our Constitution and the rule of law.
"We are grateful for the law enforcement officers who defended the Capitol and the people inside it. We have personally been in touch with San Diego's Congressional Delegation and are thankful that they are all safe.
"Today is a dark day in our history and we must quickly set about the work of repairing the damage done to our democracy. We are heartened by Congressional leaders' decision to get back to work to affirm the will of the voters and declare Joe Biden and Kamala Harris our new President and Vice President tonight."
NBC 7 spoke with residents who said they are not surprised by the chaos brought by protesters at the U.S. Capitol.
"I saw it an hour ago and I was honestly not that surprised," one person told NBC 7.
Another resident said he believes the problem is the division that exists in our country.
"I think it goes to show that we are pretty fractured right now," Corey Scott told NBC 7.
Local members of congress like U.S. Representatives Mike Levin, Sara Jacobs, Juan Vargas and Scott Peters have reported they are safe.