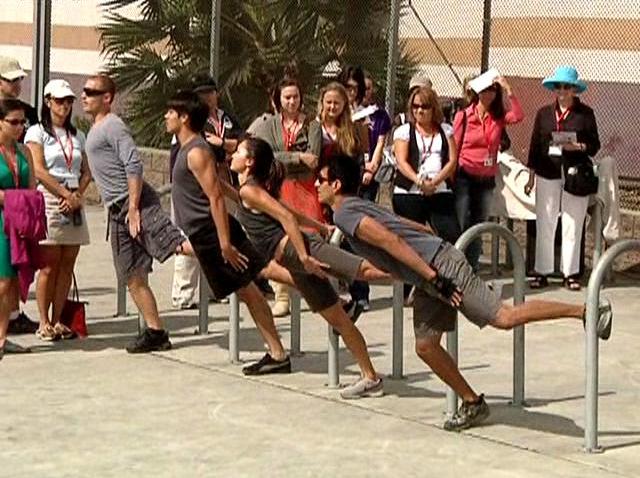 Bringing dance to you - that has always been the mission of Jean Isaacs San Diego Dance Theater's annual performance of Trolley Dances. This year, the event brought together dancers and choreographers from different countries to explore and celebrate the South Bay.
Led by volunteer guides, audience members got on and off the trolley Sunday at specific stations to view the pieces, which are set in unexpected outdoor locations.
At one stop, dancers used a chain-link fence and metal bike racks as their stage. At another, a van and an SUV were used as the backdrop for a performance titled "The Car Wash."
There were no frilly costumes or sets. At one point, dancers used police tape and even swine flu masks as props.
Even so, the idea of bringing art to gritty, urban landscapes was captivating for the audience.
"It's so fun and clever. It's wonderful," said one audience member.
It's the 11th year for the dances was designed to "demystify the border."
"I wanted to celebrate the bi-cultural nature of San Diego, Chula Vista and the South Bay," explained artistic director Jean Isaacs, herself fluent in Spanish. "We occupy a unique position as a border town, yet so few San Diegans have experienced the diversity of life south of downtown."
Performances were held at the Bayfront/E Street Trolley Station, the E Street Trolley Station and the Palomar Station in Chula Vista and the San Ysidro Station at the border.
Site-specific dance provides access to kids and families and even normal trolley riders to arts in the South Bay, according to Isaacs.
Each of the participating choreographers selected a site along the route and created a new piece. They included Isaacs as well as Peter Chu of Santa Monica, Miroslava Wilson of Tijuana, Elfi Schafer-Schäfroth of Zurich, Switzerland and Kim Epifano of San Francisco.
Wilson, who has created and performed in a number of site-specific dances with her dance troupe in Mexico, was invited by Isaacs to participate this year.
"It's essential for us to stop and see and it happens with Trolley Dances," said Wilson. The dances give the audience the opportunity to stop, see and take in the art form, she said.
In 11 years, Trolley Dances has presented the work of nearly 30 choreographers and featured almost 500 dancers.
Over the years, performances have taken place along Trolley lines in Downtown, Old Town, Mission Valley, Grantville/SDSU, Euclid Avenue, Smart Corner, Downtown and last year at Hazard Center.
MTDS is already discussing where the dances will be held next year, according to Isaacs.