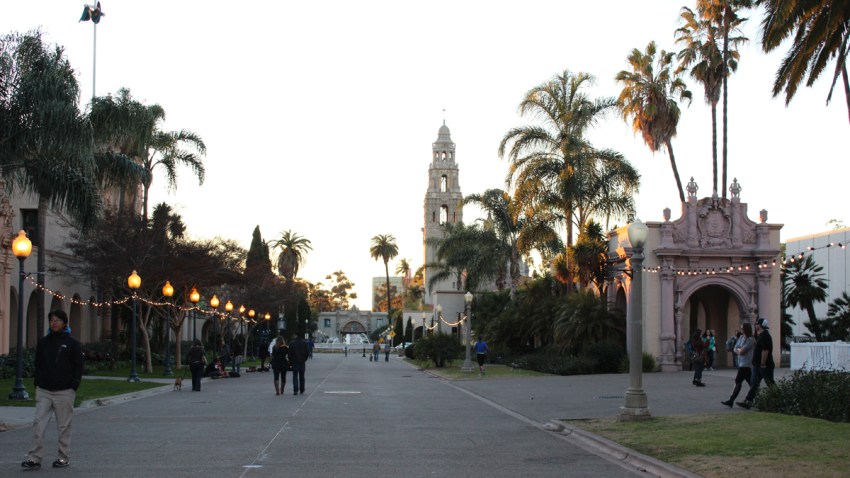 With its many museums, walking trails and picturesque points, travelers have ranked San Diego's iconic Balboa Park one of the top parks in the United States, according to a list released Tuesday by TripAdvisor.
The popular travel website announced the winners of its Travelers' Choice awards for attractions, including top-notch parks around the U.S. Balboa Park was ranked No. 7.
The urban park, which celebrates its centennial in 2015, is the nation's largest urban park and home to many performing arts venues as well as gardens. The grounds are open 24 hours a day, with the Balboa Park Visitors Center open from 9:30 a.m. to 4:30 p.m.
Other parks that made the top 10 on the Travelers' Choice awards list include: Garden of the Gods in Colorado Spring, Colo; Central Park in New York City; Millennium Park in Chicago; New York City's High Line Park; Boston's Boston Public Garden; Golden Gate Park in San Francisco; Bryant Park in New York City; Forsyth Park in Savannah, Ga.; and Falls Park on the Reedy in Greenville, S.C.
According to TripAdvisor, the highly-ranked parks, including Balboa Park, were determined based on millions of reviews and opinions from travelers. The winners were then selected using an algorithm that took into account the quantity and quality of reviews for parks worldwide, gathered during a 12-month period.
Top parks around the world that made the cut included: Stanley Park in Vancouver, Canada; Kings Park and Botanic Garden in Perth, Australia; Guell Park in Barcelona, Spain; Ibirapuera Park in Sao Paulo, Brazil; Retiro Park in Madrid, Spain; and Luxembourg Gardens in Paris, France.
To see the full list of pristine parks, click here.
By the way, TripAdvisor says 89 percent of travelers plan to take trips this summer. Last month, the travel website ranked San Diego one of the top travel destinations in the U.S. for a summer escape.