Tripwires and explosives set up at the apartment of Colorado theater shooting suspect James Holmes were successfully deactivated by authorities, Aurora Police Department spokesperson Sgt. Cassidee Carlson confirmed Saturday.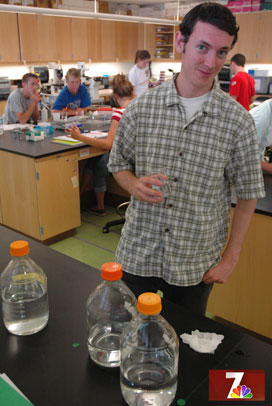 Holmes, 24, is originally from San Diego and graduated from Westview High School in 2006. He's the lone suspect involved in Friday's deadly mass shooting inside an Aurora, Colo. movie theater.
In the photograph to the right, Holmes is seen attending a June 2006 science camp at Miramar College. The camp was held for students who were interning at Salk Institute that summer, a fellow camp-goer who provided the photo told NBC 7 San Diego.
On Saturday, authorities made progress at Holmes' apartment -- which was extensively booby-trapped -- by successfully disarming tripwiring and detonating small explosive devices.
Streets around the apartment building were cleared and neighboring buildings evacuated as officials worked on Holmes' apartment.
The building is located about four miles from the movie theater where the shooting took place during a midnight screening of "The Dark Knight Rises."
By the afternoon, bomb squads had successfully detonated several explosive devices stashed inside the home.

"The first threat has been defeated," Sgt. Carlson announced in a press briefing Saturday morning.

Officials were extremely careful throughout the day since, in Carlson's words, they weren't sure what they would find inside Holmes' booby-trapped apartment. Carlson said there were "still unknowns" as far as the possiblity of a fire or explosions stemming from the detonation of the various devices.

"We're going to be very cautious," she added, because "we don't want to lose" any evidence.
"We're not exactly sure of everything that's in there," added Carlson.
Get more coverage in our special section "The Dark Knight" Massacre
Carlson confirmed that approximately 30 aerial shells are among the items detected inside the apartment on Friday.
In a second press briefing Saturday afternoon, FBI spokesperson Jim Yacone confirmed that experts first entered the suspect's apartment using a robot. They defeated some sort of tripwire device that was placed across the front door, Yacone explained.

"[The] threat has not been completely eliminated; it has been significantly reduced," said Yacone at the press briefing.

Chief Daniel Oates spoke at the second briefing and confirmed the major threats inside the suspect's apartment were under control, though he admitted the devices were certainly sophisticated.

"Make no mistake, this apartment was designed to kill whoever entered it," said Oates. "If you think we are angry we sure as hell are angry about what has happened to our city, what has happened to the wonderful people who lived here and also what he threatened to do to one of our police officers."

The chief also said that preliminary investigations show Holmes had a high volume of packages delivered to his workplace and home over the last four months, which might explain how he got a hold of so much ammunition.

Oates said this might show alleged "calculation" and "deliberation" leading up to the massacre.
However, he said authorities are still not ready to discuss a motive.

With the explosives removed from the apartment, an FBI evidence response team began scouring the home, looking for any clues that could help them understand how or why this tragedy in Colorado happened.
Follow NBC7 for the latest news, weather, and events: iPad App | iPhone App | Android App | Facebook | Twitter | Google+ | Instagram | RSS | Text Alerts | Email Alerts