A woman accused of pulling a gun on her barber because she was unhappy with her haircut will stand trial, a judge ruled Thursday.
Adrian Blanche Swain, 29, is facing an attempted premeditated murder and the use of a firearm charge. She previously denied all allegations against her, pleading not guilty.
On Feb. 10, Swain visited the 619 Barber Shop in North Park for a haircut. She paid for the cut and gave her stylist, Manny Montero, a $20 tip after the service before leaving the shop.
Montero testified Tuesday that Swain came back later with the side of her head shaved and pulled a gun on him.
"And the only thing she said was, 'look what you did to me,'" Montero testified through an interpreter.
"She pulled the trigger," he testified. "Nothing came out. And the next thing she said was, 'Do you think I'm kidding?'"
Swain allegedly pulled the trigger three times, but the gun did not fire because she had not racked a round into the chamber, according to Deputy District Attorney Makenzie Harvey.
"My immediate reaction was to hide behind the chair," Montero said. "Then she started walking toward the outside and that is the moment when I reacted. Next, I went and knocked her down. I called one of my friends, one of the barbers, so that he could help me release the gun from her hand."
According to Montero, Swain returned with a different haircut from the one she left with; when they saw her a second time, she had a bald spot on the side of her head which Montero said he did not give her.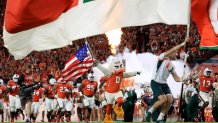 Immediately, Montero and others in the shop tackled Swain and grabbed the gun from her, they told NBC 7.
A judge ruled there is enough evidence for Swain to stand trial.
She faces life in prison if convicted.