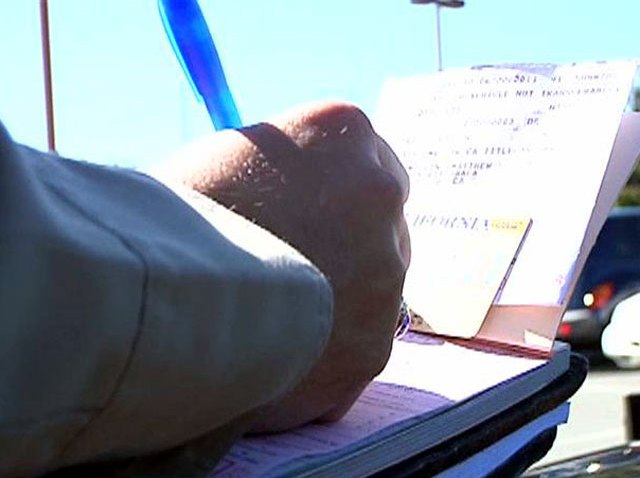 A traffic ticket will likely cost you hundreds of dollars. It's not the fine that's so much, but the fees tacked on by the government.

Most drivers are shocked when they get a steep bill for a traffic violation. So we tried to break it down. What's the fine and what are the fees? The answers are hard to come by and shocking to many. In truth, fines are a fraction of the actual cost once you add fees.

For a first offense, rolling a stop sign is $35. With fees it becomes about $235.

Running a red light is $100 fine, but could cost you $480.

A handicap-parking fine of $250, with fees, adds up to more than $1000.

A cell phone violation of $20 jumps to $160.

"We're bringing in well in excess of $120 million to $130 million a year," said Michael Roddy, Executive Officer of San Diego Superior Court.

He blames the folks up north.

"State Legislature. These are all assessments, penalty assessments, conviction assessments that are adopted by the State Legislature and applied to courts throughout California," said Roddy.

So do we get to vote on these?

"They're voted on by the legislature," said Roddy.

There's a court security fee.

"This year went up $10. It went from $30 to $40," said Roddy.

And a conviction assessment.

"Simply a $35 fee that's added every time we get a conviction," said Roddy.

There are more and while the court made a chart for us, it's not public, even on the court's traffic website.

"We've typically been very cautious about putting that information out because it is so customized," said Roddy.

He says cases differ and a simple chart would misinform.

Outside traffic court, confusion rules.

"$316 for a seat belt ticket? That's a little ridiculous," Chad Barsoom said.

Courtesy notices, like the one Barsoom got in the mail, give the amount but no details.

"We don't have room on that form because we're providing a whole lot of information about how you can pay your bail, how you can request a trial," said Roddy.

He suggests asking a court employee, but the line is often out the door and the wait is three hours or more.

"We're not pleased with our level of public service. But it is a direct reflection on the cutbacks that we've suffered," said Roddy.

People are suffering too, with more pleading their case than ever.

"We do offer payment plans," said Roddy.

If you have to get on the payment plan, expect an extra $35 and if you opt for traffic school, you still pay the total cost.

So people fume.

"It's a racket is what it is," said Tammy Plummer.

Roddy's advice?

"Call their legislator. We really can't do anything with respect to these fees," he said.

If you get stopped, the officer might tell you the fine amount but not the total cost.