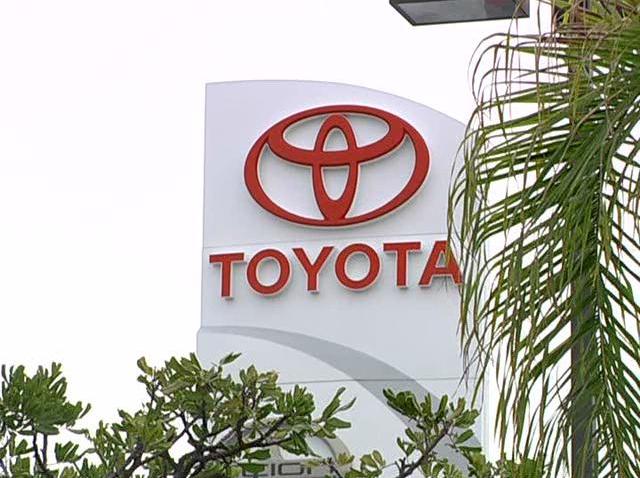 Toyota has agreed to pay record $16.4 million fine related to pedal recall, according to the Associated Press.
The National Highway Traffic Safety Administration, which has linked 52 deaths to acceleration problems, imposed the record fine on the Japanese automaker for failing to disclose its safety problems to the government in a timely manner.
The death that initially shined a high-powered light on safety issues with Toyota vehicles involved a San Diego-area CHP officer who was killed along with his family in August 2009.
Toyota president Akio Toyoda even offered his condolences to the San Diego relatives of Officer Mark Saylor during a February Congressional hearing vowing to do everything in his power to avoid a repeat of the tragedy that unfolded in Santee.
Transportation Secretary Ray LaHood says that by failing to report safety problems, Toyota put consumers at risk. The fine is the largest-ever penalty paid by an automaker to the U.S. government.
Even so, the fine could pale in comparison to potential damages in the lawsuits, which could easily exceed $3 billion, according to plaintiff's attorneys. But it will take months or longer for that to play out.
Dozens of lawsuits filed in the aftermath of Toyota's recall of millions of vehicles over sudden unexpected acceleration problems will be consolidated in one trial in Orange County.
U.S. District Judge James V. Selna will hear important pretrial motions for all cases, eventually leading to trial, settlement or dismissal of the lawsuits.
At least 100 other lawsuits seek damages from Toyota for injuries or deaths attributed to sudden acceleration.
More than 130 lawsuits are potential class-action cases filed by Toyota owners who claim their vehicles plummeted in value after the recalls.
The lawsuits began appearing last fall as Toyota initiated the first of a series of recalls eventually involving about 8 million vehicles -- including about 6 million in the U.S. -- over acceleration problems in several models and brake issues with the popular Prius hybrid.
Toyota was thrust into the spotlight after federal investigators found a stuck accelerator played a significant role in the crash of a Lexus that killed a CHP Officer and three family members on state Route 125.
Off-duty CHP officer Mark Saylor, 45, was driving a Lexus ES 350 on August 28, 2009 when the driver-side floor mat prevented him from stopping the vehicle. The Lexus broke through a fence and struck a dirt embankment, catapulting it through the air more than 100 feet. Saylor; his wife, Cleofe, 45; their daughter, Mahala, 13; and his brother-in-law Chris Lastrella, 38, died in the crash.
That crash and investigation prompted a safety recall from Toyota advising that all Lexus and Toyota owners remove driver-side floor mats as a temporary measure.
The company recalled more than 8 million cars and trucks worldwide because gas pedals can become stuck in the down position or be snagged by floor mats. Dozens of Toyota drivers have reported problems even after their cars were supposedly fixed.
On March 8, James Sikes called 911 reporting his Toyota Prius was driving out of control on eastbound Interstate 8. CHP Officer Todd Neibert reported the Prius reached 95 mph before passing two trucks. As they went uphill, Neibert told Sikes to apply the foot brake and parking brake simultaneously, and the car gradually slowed.
Toyota has dismissed Sikes' account, saying its tests show he pressed the gas and brakes rapidly 250 times, the maximum amount of data that the car's self-diagnostic system captures. The CHP insists no evidence has emerged to doubt Sikes' version of events.
The 2008 Prius is subject to a recall for floor mats but not sticky accelerators.
The fine announced Monday is connected to a January recall of 2.3 million vehicles with sticking accelerator pedals. The government says Toyota knew about the problem in late September and failed to report the potential safety defect within five business days, as required by law.
Toyota said it agreed to the penalty "to avoid a protracted dispute and possible litigation" but denied the government's allegation that it violated the law.
"We believe we made a good faith effort to investigate this condition and develop an appropriate countermeasure. We have acknowledged that we could have done a better job of sharing relevant information within our global operations and outside the company, but we did not try to hide a defect to avoid dealing with a safety problem," Toyota said.
Transportation officials have not ruled out additional fines. The department is reviewing whether Toyota delayed for six weeks the late January recall of the 2009-2010 Venza in the United States to address floor mats that could entrap the accelerator pedal after making a similar recall in Canada.
Toyota recalled the Venza in Canada in December and reported to the U.S. government on Dec. 16 that the floor mats could move forward and interfere with the pedal. Toyota told U.S. authorities at the time that the floor mats in question were not imported into the U.S. but the Venza was added to the floor mat recall in late January.

Copyright AP - Associated Press