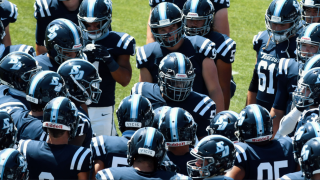 1,995 days. That's the length of time between Pioneer Football League losses for the University of San Diego Toreros.
USD's 39-game conference winning streak came to an end with a 31-25 loss at home to Davidson on Saturday afternoon. The Toreros fall one win short of setting the all-time Football Championship Subdivision record that they share with Duquesne (also 39 straight from 1999-2006).
San Diego's loss was really the result of too many mistakes. In the first half, Michael Hawkins lost a fumble on a punt return and Mason Randall threw an interception in field goal range. Both of those turnovers led to Wildcats touchdowns as Davidson built a 28-10 halftime lead.
To USD's credit, they gave themselves a chance. Randall threw a pair of 2nd half touchdown passes, a 15-yarder to Michael Carner and a 13-yard strike to Derek Cline, while the Toreros defense went into lockdown mode. USD allowed just three points after the break, a field goal with a little more than two minutes to play that put Davidson up 31-25.
The Toreros had one time out and plenty of time to set up a dramatic game-winning drive but Randall missed wideout Christian Brown on a crossing route and the pass floated right to linebacker Jalen Jefferson for the pick that ended the streak.
USD falls to 3-1 and now they'll need some help to try and win their 12th conference championship and make a 5th straight FCS playoff appearance.