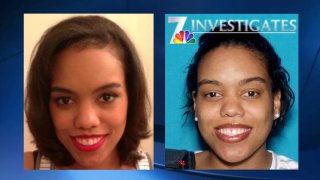 Elizabeth Sullivan, a U.S. Navy wife and mother of two living in San Diego, vanished in mid-October 2014. Almost exactly two years to the date of her disappearance, her body was found floating in the water near Liberty Station. Here's a look at major moments in her case.
Oct. 14, 2014: Elizabeth Sullivan Reported Missing
On Oct. 14, 2014, the San Diego Police Department (SDPD) announced that Elizabeth Sullivan had been reported missing. Police said Elizabeth Sullivan was last seen on Oct. 13, 2014, at her home near Liberty Station. She sent a text message from her phone that day – the last contact her friends and family ever had with her. Elizabeth Sullivan's phone was then turned off. Police said Elizabeth Sullivan's car was found at her home.
It's unclear what transportation – if any – she used on the day she vanished. Elizabeth Sullivan was a married mother of two girls, ages two and four, at the time of her disappearance.
Oct. 19, 2014: Police Confirm Sighting of Sullivan at Liberty Station
On Oct. 19, 2014, police confirmed there had been a sighting of Elizabeth Sullivan reported at the soccer fields at Liberty Station. It is unclear when, exactly, Elizabeth Sullivan was spotted, but police confirmed the sighting two days after she disappeared. Police said Elizabeth Sullivan was wearing black stretch-style cloth pants and a gray sweatshirt.
Oct. 21, 2014: Another Sighting of Sullivan Near Lindbergh Field
After being missing for one week, police confirmed another sighting of Elizabeth Sullivan on Oct. 21, 2014, this time near the San Diego International Airport and the Midway area.
November 2014: Sullivan's Husband Speaks to 'People' Magazine
Sullivan's husband, U.S. Navy service member Matthew Sullivan, spoke to "People" magazine in November 2014, saying he just wanted his young daughters to see their mother again. He told the magazine he and his wife were having marital troubles and he was allowing Elizabeth Sullivan to "have her space." He said she had been going out more often but had never been gone longer than overnight. "The girls need their mom," Matthew Sullivan told the magazine. "She's never been gone this long. She's been with them their whole lives, while I was at work or on deployment…she was always there."
Nov. 8, 2014: Sullivan's Father Begs for Her Safe Return
Almost one month after Elizabeth Sullivan's disappearance, NBC 7 spoke with her father, Edward Ricks, who called his daughter's case a "mystery" and begged for her safe return. Ricks traveled from his home in Virginia to San Diego to help search for his daughter. "I feel like she's in trouble," Ricks said. He pleaded for Elizabeth Sullivan to reach out to him and said he had faith that he could bring her home.
August 2015: 10 Months Later, No Sign of Sullivan
Ten months after she vanished, police said there was still no sign of Elizabeth Sullivan, and her case had gone cold. Police said she was also known to go by the names Liz Sullivan; Elizabeth Ricks; Liz Ricks; Edie Salander; Edith Salander and Evie Salander. The SDPD said Elizabeth Sullivan's family was looking for anyone who had made contact with Elizabeth Sullivan either in person, on social media or on other websites.
Nov. 9, 2015: Sullivan's Cold Case Profiled by NBC 7 Investigates
In November 2015, Elizabeth Sullivan's cold case was among the stories of missing San Diegans profiled by NBC 7 Investigates.
Oct. 4, 2016: Woman's Body Found Floating in Bay
On Oct. 4, 2016 – about one week shy of the two-year anniversary of Elizabeth Sullivan's disappearance – the SDPD confirmed police had found a woman's body in the water near Liberty Station. The badly decomposed body was reported by a citizen and found floating in a channel near the shoreline at Farragut Road near NTC Park. The identity of the body was not confirmed at this time, pending an autopsy report from the San Diego County Medical Examiner.
Dec. 7, 2016: Body in Bay Identified as Sullivan
On Dec. 7, 2016 – two years and two months after Elizabeth Sullivan's disappearance – police confirmed the body found in the bay in October 2016 was that of the missing Navy wife. Investigators said the mysterious case is far from over, as there are no persons of interest yet linked to Elizabeth Sullivan's death at this point. Police are seeking the public's help in piecing together what happened to Elizabeth Sullivan. "Finding a body after two years, you could imagine this is a complex investigation," Lt. Holden, of the SDPD, told NBC 7.
February 2017: Police Reports Reveal 911 Calls From the Sullivans
In February 2017, police reports obtained by NBC 7 showed that Matthew Sullivan had called 911 on the same day Elizabeth Sullivan vanished. He reported his wife was "going to frame him and have him arrested," and also claimed she had made a mess at their home.
NBC 7 also discovered records from another 911 call made by Elizabeth Sullivan in March 2014. In that call, she told authorities there was a history of domestic violence in her marriage and that she and Matthew Sullivan had been arguing over custody of their children and child support. Per the police report, she told officers she was concerned that their March 2014 fight may escalate. At that time, Matthew Sullivan told the SDPD that his wife had drained their shared bank account.
A final call to 911 was made on Oct. 14, 2014, from the Sullivans' home by a friend concerned over Elizabeth Sullivan's whereabouts. The friend told police Elizabeth Sullivan was "very afraid" of her husband.
At this point, however, police said Matthew Sullivan was not considered a suspect in Elizabeth Sullivan's disappearance or murder.
Jan. 31, 2018: Matthew Sullivan Arrested for Elizabeth Sullivan's Murder
More than three years after Elizabeth Sullivan's disappearance, the SDPD announced Matthew Sullivan had been arrested on Jan. 31, 2018, for the murder of his wife. Matthew Sullivan was taken into custody by local police outside his home in Wyoming, Delaware. He would be extradited to San Diego to face charges for Elizabeth Sullivan's killing.
Feb. 9, 2018: Matthew Sullivan Returns to San Diego, Court Date Set
On Feb. 9, 2018, Matthew Sullivan was extradited from Delaware to San Diego, where he was booked into San Diego Central Jail on one count of first-degree murder. His bail was set at $2.1 million; he was scheduled to appear in court for the first time on Valentine's Day 2018.
Feb. 14, 2018: Matthew Sullivan Arraigned
Matthew Sullivan made his first court appearance for the murder of his wife on Valentine's Day 2018. He pleaded not guilty to one count of murder and one allegation of using a knife during the course of the killing. Prosecutors said a knife was found in the attic of the Liberty Station-area home the couple shared that contained "key evidence" linking Matthew Sullivan to the murder. Matthew Sullivan's attorney said the Navy veteran has no criminal record and will fight for his freedom in this case.
Feb. 14, 2019
After a lull in legal proceedings, Matthew Sullivan returned to a San Diego courtroom on Valentine's Day 2019 for his preliminary hearing. Six witnesses testified during the first day of the hearing, including Elizabeth Sullivan's friend, Nathan Caracter, who said the victim had "never really been happy in her marriage" and that Elizabeth Sullivan had told him her union with Matthew Sullivan was a "loveless marriage." Caracter said Elizabeth Sullivan began an extra-marital affair with a boyfriend in September 2014, about one month before she vanished. The witness testified that Matthew Sullivan had found out about the relationship and that caused a further strain in the Sullivans' marriage.
March 4, 2019
Ultimately, a judge decided Matthew Sullivan would stand trial for the murder of his wife. A trial date was set for Matthew Sullivan; he would go to trial on Oct. 22, 2019.
Feb. 21, 2020
Matthew Sullivan's murder trial began on Feb. 21, 2020, with opening statements and testimony from the loved ones of Elizabeth Sullivan. A potential motive, according to prosecutors during opening statements, was an extra-marital affair that Elizabeth Sullivan was having, and that Matthew Sullivan learned of about a month before his wife's disappearance.
March 2020
A jury found Matthew Sullivan guilty in the disappearance and murder of Elizabeth Sullivan.
March 12, 2021
Matthew Sullivan was sentenced to 16 years to life in prison for second-degree murder in the stabbing of his wife, Elizabeth Sullivan.