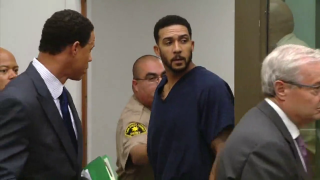 Kellen Winslow Jr. was arrested in 2018 after allegedly attempting to break into an Encinitas home. The event led to two years-long trials for the former NFL tight-end who was accused by five women of sexual assault and rape. Here's what happened before Kellen Winslow Jr. was sentenced to 14 years in prison for rape and sexual assault on March 3, 2021.
WARNING: Some of the details provided are graphic.
June 2003: Jane Doe 4 and Winslow met at a party in Scripps Ranch. Jane Doe 4 was 17 years old at the time, and 19-year-old Winslow was attending the University of Miami. Jane Doe 4 said the two of them initially flirted with each other. "Light flirting, you know, sitting close, nudging each other – just being silly, flirty teenagers," she said. "Me and him ended up walking upstairs to a bedroom." But after they began to have sex, Jane Doe 4 said another man walked into the bedroom to "watch." She left the bedroom and the party, and while she said Winslow wanted the other man, his friend, to watch, he did not force himself or abuse her at this point.
June 20, 2003: Jane Doe 4 was reportedly raped in a Scripps Ranch townhouse while she was unconscious. "I opened my eyes and my face was being pushed into (Winslow's friend's) groin area," Jane Doe 4 testified. "He was holding onto my hair. And I'm pushing with both of my hands to get these guys to stop, and I just keep telling them to stop." After she continued to say stop, Jane Doe 4 claimed Winslow's friend stopped and forced Winslow to stop. Jane Doe 4 then left the townhouse.
March 17, 2018: A 54-year-old woman identified by prosecutors as Jane Doe 1 was raped when a man in an SUV stopped to pick her up as she was hitchhiking in Encinitas. She got into the vehicle on Lake Drive and was raped less than 4,000 feet from where she was picked up, detectives said.
May 13, 2018: A 59-year-old woman, known as Jane Doe 2, was picked up on Vulcan Avenue by a man in an SUV and raped along Manchester Avenue, according to a San Diego County Sheriff's detective.
May 24, 2018: A 57-year-old woman, identified as Jane Doe 3, was gardening at a residence on Lake Drive when a man exposed himself.
June 1, 2018: A 71-year-old woman was home when a man came through her laundry room through a back door. The woman testified she did not feel threatened by the man.
June 7, 2018: Winslow was arrested at his Encinitas home on suspicion of residential burglary, San Diego County Sheriff's Department officials confirmed. Law enforcement officials alleged Winslow had entered a senior community in Encinitas on that day, intending to rape an 86-year-old woman who was sleeping inside her home.
June 8, 2018: The former NFL Player nodded to the camera as he exits jail following his arrest.
June 9, 2018: Publicist Denise White sent a statement to NBC 7 saying the incident was a misunderstanding and that Winslow dropped by the mobile home park to look at homes for his mother-in-law before heading to a nearby gym. She also said the owner of the mobile home was friends of Winslow.
June 15, 2018: Former Chargers tight end Kellen Winslow Sr. left his son's arraignment without comment.
July 12, 2018: Winslow was bound over for a trial on charges of rape, kidnapping, and sodomy. Hours later, he was formally charged with two additional felonies tied to a June 2003 incident.
July 13, 2018: Winslow was released on $2 million bail.
September 17, 2018: A hearing was postponed because Winslow was recovering from surgery. The defendant was videotaped leaving court using crutches.
October 15, 2018: Winslow was ordered to stand trial for raping a teenager, known as Jane Doe 4, who was 17 years old and attending Escondido High School at the time. Winslow was 19 at the time of the alleged incident inside a townhouse on June 20, 2003.
October 30, 2018: Winslow said the accusations of sexual assault brought against him were a "money grab."
November 15, 2018: Two separate cases involving rape allegations against Winslow, one from a 2003 incident, were combined into one. Winslow pleaded not guilty to all charges.
February 13, 2019: A 77-year-old woman, identified as Jane Doe 5, said a man approached her at Crunch Fitness in Carlsbad and touched himself. "He had his legs open, and he was touching his penis, and he was just kind of stroking or something like that," she said. "I want for him to leave. He didn't belong there, so I asked him to leave the machine." The man reportedly left and returned some time later, where he began to display an erection while doing stretches next to Jane Doe 5, she testified. Jane Doe 5 said she yelled at him and the man, she identified as Winslow, left.
February 22, 2019: Jane Doe 5 was again approached by the same man, who had only a towel wrapped around his waist when he entered the hot tub where she sat alone. The woman said the man "unmistakably began masturbating a few feet away from me." Jane Doe 5 claimed Winslow was the man in question. "With his right hand, he touched my left arm. He grabbed my arm," she said. "With his leg, he touched my left leg, with his foot." Jane Doe 5 said she moved toward the wall to try and avoid him. "I just thinking, 'Why me? Why the second time this happens to me?'" she said. Shortly after, Jane Doe 5's husband entered the hot tub and pool area, and Jane Doe 5 left to join him. The man left thereafter.
February 28, 2019: Winslow, who was out on $2 million bail, was ordered to remain on house arrest.
March 5, 2019: Winslow was ordered back into custody by a San Diego judge following two new sexual assault allegations. The defendant was accused of touching himself on two occasions in front of Jane Doe 5 at a Carlsbad gym.
May 13, 2019: The group of peers ordered to carry a verdict in the trail began to form, as the court began jury selection screenings.
May 20, 2019: Opening statements began, marking the start of the trial.
May 21, 2019: Jane Doe 1 testified in court. She struggled to identify Winslow's Hummer when shown a photograph and said he called himself Dominic and later said he identified himself as Michael. Jane Doe 1 said after they parked behind a grocery store, Winslow got out of the vehicle and climbed over a 5-foot-high chain link fence to a dirt patch covered in ice plant where he said they would have sex. As to why she followed the man, Jane Doe 1 said she was "terrified." She said, "He threatened to kill me, and I really believed that he would have."
May 22, 2019: Jane Doe 2 testified in court. She said she got in the car with a man, who she claimed was Winslow, because she "felt safe" at the time. And then during the alleged assault, Jane Doe 2 said Winslow put his hands around her throat when she began to scream. "'If you scream' -- I don't know, if (Winslow said), 'choke you to death' or 'I'll murder you,'" she testified. The woman said there were no marks on her neck after the alleged assault and that she didn't report the assault until the next day because she was afraid.
May 23, 2019: Jane Doe 3 testified in court. She said, "The day I was cutting flowers, and then I saw him, I was walking toward the orange tree and then he was following me, and then he took his pants, and then exposed his penis to me." Jane Doe 3 said she did not get a good look at the man's face, partially because not looking directly at a stranger is part of Vietnamese culture. She also testified she did not want to look at the man's face after she realized what was happening.
May 28, 2019: Prosecutors entered images of Winslow's tattoos into evidence. Tattoos have been mentioned in some of the descriptions of the women accusing Winslow of sexual assault and indecent exposure.
Images: Kellen Winslow Junior on Trial for Sexual Assault, Rape
May 29, 2019: Jane Doe 4 and Jane Doe 5 testified in court. Both woman recalled their alleged attacks. Jane Doe 4 described how she met Winslow at a party in 2003, and while their relationship started out as that of "silly, flirty teenagers," she said it quickly turned into a nightmare. Jane Doe 5 recalled two separate incidents at a Carlsbad gym when Winslow allegedly exposed himself to her, once on workout machine, similar to a thigh abductor, and another time in a hot tub. Jane Doe 5 made note of her assaulter's mood and expressions, saying he had a "very funny and happy face" and was "just kind of smiling." Jane Doe 4's ex-boyfriend and husband also testified in court.
May 30, 2019: Jane Doe 5 testified for a second day in court. She again recounted the sexual assaults at a Carlsbad gym and how she attempted to stop them and report them.
June 4, 2019: Closing statements began. "Kellen Winslow took from these women what he wanted. Kellen Winslow took from these women again and again and again," prosecutor Dan Owens told the jury. "Do not allow his status or his name to take away from that." Though, defense attorney Marc Carlos responded by questioning the validity of the women's claims of sexual assault, saying, "Do not fall into the trap of picking pieces of evidence and making another case stronger -- it doesn't work that way."
June 5, 2019: The jury began deliberating on the 12 charges brought against Winslow.
June 7, 2019: The jury passed a note to the presiding judge asking for clarification in their responsibility. The note read, "The jurors could benefit from an explanation as to what being under oath means. Additionaly [sic], how we should follow the law and not what we think the law means." It was signed by Juror 6.
June 10, 2019: The jury sent a note to the judge indicating they have reached a decision for four of the 12 counts. The note read, "As of 1:55 pm on 6/10/19 the Jury has come to a decision on 4 out of 12 counts." Winslow was found guilty of one count of rape of Jane Doe 2, indecent exposure involving Jane Doe 3, and one count of lewd conduct involving Jane Doe 5. Winslow was found not guilty of a second count of lewd conduct involving Jane Doe 5. As for the remaining eight counts, the jury will reconvene on June 11 to continue deliberations. "Frankly, I was a little bit surprised by his answer because they've been deliberating for five days but I think it shows we have a very dedicated and conscientious jury," the judge said.
June 11, 2019: A judge declared a mistrial on eight remaining charges involving two women who accused Kellen Winslow of rape -- Jane Doe 1 and Jane Doe 4 -- after a jury couldn't come to a consensus.
June 15, 2019: Prosecutors said they would retry Kellen Winslow Jr. on the eight remaining sexual assault charges that a jury deadlocked on. The charges that remained include: two more counts of rape by force of fear, kidnap for rape, rape of an unconscious person, oral copulation by force of fear, and sodomy by force of fear, elder abuse and battery charges.
Nov. 5, 2019: Winslow pleaded guilty to raping an unconscious teen in 2003 and to sexual battery involving a 54-year-old hitchhiker in a deal that spared him the possibility of life in prison. In exchange for his plea to rape of an unconscious person and felony sexual battery, the court agreed to sentence him to between 12 and 18 years in prison and dismiss six other counts.
Feb. 19, 2021: A modification was made to Winslow's guilty plea. A prior plea Winslow made to a sexual battery count involving one of the victims was changed to a guilty plea to assault with intent to commit rape.
March 3, 2021: Kellen Winslow Jr was sentenced to 14 years in prison for sexual assault and rape crimes against five women in San Diego's North County.
At Winslow's sentencing, which was conducted via video conference due to the coronavirus pandemic, four of the five victims, and one woman's husband made statements about the pain caused by Winslow's crimes.
"You brought so much damage to my life," one of the women said to Winslow.
When asked if Winslow had anything to say to the victims, the former football player said, "I have been advised by my lawyers not to speak right now, but I do plan in the future to tell my story."