A man who served as a rifleman and scout sniper with the U.S. Marines has been arrested in Tijuana, Mexico, the U.S. Marine Corps confirmed to NBC 7.
Tyler James Yeager, 39, of San Diego was arrested on on April 23, Preeti Shah, Public Information Officer for the U.S. Consulate in Tijuana confirmed Tuesday.
Yeager was arrested and charge in connection with a violent robbery with a gun. he was caught outside a Tijuana home that had just been robed, Mexican officials say.
Mexican officials say neighbors reported several robberies in the area, and the Attorney General's office in Baja is investigating to determine if Yeager was involved in those robberies as well.
The U.S. consulate General in Tijuana confirmed to NBC7 they are providing consular services to Yeager.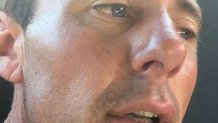 Yeager served from 1996 to 2000, according to a USMC official in Virginia.
His last duty station was Camp Pendleton 2ND Battalion 5th Marines 1st Division, the USMC official said.
In 2014, Yeager was booked into Montana's Ravalli County Detention Center for multiple charges, including sexual assault and various traffic offenses, accordng to Sheriff Steve Holton. he was booked again in 2015 for sexual assault and DUI convictions, Holton said.
No other information was available.