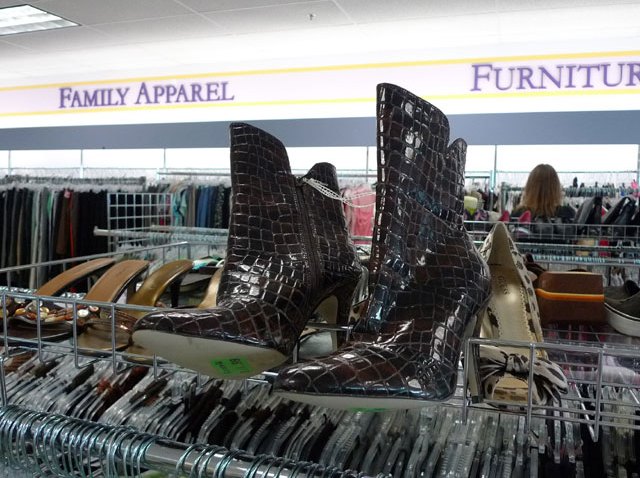 San Diegans are wearing their budgets on their sleeves now more than ever.
Consignment and resale stores in the region that offer previously worn clothes at a discounted price say they've seen an increase in sales in the past several years.
And in the past several months, their clientele has shifted as well. More new customers have abandoned expensive retail shops in favor of resale stores.
Shopping at these stores is a recent trend, both in fashion and in the economy. The two go hand-in-hand, said Jessica Estevez, manager of Flashbacks Recycled Fashions in Hillcrest.
"More people are coming in to sell clothes as a way to create income, and they're also more conscious of what they're wasting," Estevez said.
Buffalo Exchange in Pacific Beach, which buys clothes from people and sells them at reduced rates, is seeing fewer of their usual customers come in to buy clothes.
"When people come to our store to sell their clothes, we offer store credit, but a lot of people lately just ask for cash. They don't even look around in the store anymore because they can't afford to buy clothes," said Danielle Arel, manager of Buffalo Exchange in Pacific Beach.
Arel added that customers she used to see often have moved away. It's a sign of the times.
While shifting to resale might be a challenge for fashion aficionados, entrepreneurs are rushing to the opportunity.
Research by the National Association of Resale Professionals revealed that resale is one of the few industries with a marked growth in net sales. Members of NARTS say they are experiencing an increase in the volume of inventory coming into their stores, as well as the quality of the items they receive.
"[Our] shops have been very aggressive in their advertising and marketing programs aimed at attracting a new demographic of customers and suppliers—those who may not have taken advantage of the benefits of resale before a decline in the economy," a NARTS press release stated.
La Femme Chic Consignment Boutique opened in Solana Beach just a few months ago. Store employee Hollie Olson said that business has been booming since the store opened.
When Storeowner Janet Sinclair considered opening up a new store, she found that consignment stores were the only market with steady increase currently.
Olson was careful to say that the store "doesn't look like a consignment shop." It has a French boutique theme, and when customers venture into the store, they are surprised to find out it is a consignment store.
She agreed that customers who are used to shopping at more expensive retailers in the area are conscious of how they might look walking into a consignment store, but are nevertheless excited to find good deals on designer items.