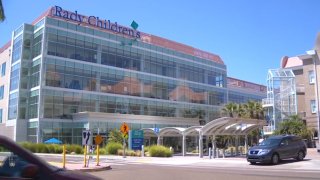 San Diego police officers were called out Wednesday after reports of a dog attack in Point Loma.
When police arrived at the home in the 2700 block of Wasp Way shortly after 6:30 p.m., they discovered that three people — one of them an 18-month-old toddler — had been bitten by a 2-year-old male Rottweiler.
A 13-year-old girl, whose family lives down the street and owns the dog, and the toddler's mom were both bitten as well, according to Nina Thompson with the San Diego Humane Society.
Bill Ganley, the society's chief of humane law enforcement, told NBC 7 that the mother and toddler were seriously injured. They were both bitten on the arm, he said; the teenage girl, who the dog attacked at home after incident, was bitten less severely.
"The dog ... reportedly ran out of an open door from his residence before attacking the mother and toddler," said Thompson in an email sent to NBC 7, adding that the "dog's owner has received a running-at-large citation and the dog has been placed on a mandatory 10-day quarantine."
The Rottweiler is still at home with its owner, Ganley said, and must stay on the property during the quarantine until it's confirmed that the dog doesn't have rabies. 
All three victims were taken to Rady Children's Hospital-San Diego for treatment, according to police spokesman Darius Jamsetjee.
"Everyone involved is devastated by it," Ganley said. "This was not an intentional act."
Ganley said there will be a hearing at some point, during which the dog's owner will be allowed to present information that will be used to help make a determination. If the hearing's officer decides a burden of proof has bet met, the officer can institute requirements, including:
Displaying a "dangerous dog" sign outside the property
Making sure the dog is restrained in an enclosure on the property 
The homeowner may have to provide proof of liability insurance with the dog named 
The dog may have to be muzzled 
Owners can surrender animals for humane euthanasia
Thompson said that investigators are asking anyone with information about the case to email investigations@sdhumane.org or call 619-299-7012 (press 1).