As the sun peeked through the clouds Saturday in Balboa Park, thousands of went for a run, together, united in one effort: to remember a Poway teenager whose vibrant life was tragically cut short, and to spread love and light to the community.
At 7:30 a.m., thousands began running in the 7th annual Finish Chelsea's Run, a community 5K walk/run in memory of Chelsea King, and the run she was never able to finish.
The event serves as a fundraiser for the Chelsea's Light Foundation, a non-profit organization created by Chelsea's parents, Brent and Kelly King, in memory of their beloved daughter. The foundation aims to support youth and spread positive change in the community.
Saturday's 5K raised money for the organization's Sunflower Scholarship Fund, which will help award 10 scholarships to college-bound teens who embody "service over self" traits. NBC 7 was the television media partner for the event; our NBC 7 team was there to support participants and Chelsea's loved ones at the run.
In a high-profile case that sent shock waves through San Diego County, Chelsea, only 17, was kidnapped on Feb. 25, 2010, while out on a run at Rancho Bernardo Community Park, by sexual predator John Albert Gardner III.The Poway High School senior's body was found five days later in the Lake Hodges area.
On May 15, 2010, Gardner was given a life sentence without the possibility of parole for the rape and murder of Chelsea, as well as that of Escondido teenager Amber Dubois, 14, who vanished in a similar, disturbing case in February 2009.
The following year, the King family worked to pass Chelsea's Law in California, which enhances criminal sentences for violent sexual offenders who commit crimes against children.
Earlier this week, Brent and Kelly stopped by NBC 7 to talk about Chelsea's Law and what it has done, since its implementation, to improve safety for children.
The Kings said they are proud of what the law has been able to achieve thus far, but said their work is far from done.
"What we've been able to accomplish here in California and in San Diego is what we want to accomplish across the country, so that is a never ending challenge," said Kelly. "We welcome it with open arms, but it's a long hard road, but we're not about to stop until we make sure the kids not just in California but across the country are as safe as the kids are here."
The couple are working on taking Chelsea's Law to other states and encouraging lawmakers to adopt all or part of it. They are also working with the state of California to ensure the law stays strong.
"It's working exceptionally well," Brent said.
But, Brent said, there are still flaws in the way in which sex offenders are categorized.
"We still categorize every sex offender the same," Brent said. "We don't separate them out, and there's real value separating them out because the ones that are extremely violent – we need to make sure we manage them in that form that best protects us. We can't just group them all together."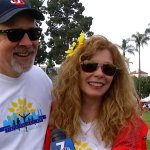 Last Saturday, the Kings reflected on the 7th anniversary of their daughter's killing by posting a heartfelt message to the Chelsea's Light Foundation Facebook page.
The message read, in part:
"Unspeakable sadness. Immeasurable love," the message began. "These are some of the emotions that coarse through our hearts today. It's been 7 years since we last saw our little girl. Chelsea radiated joy, and believed in the good in all people. We have learned that no amount of evil can diminish the compassion, conviction and beauty we witness daily. Nothing can separate us from Chelsea. You taught us that. We will never forget the gift you have given us."
The post included a touching tribute video with snippets of home videos of Chelsea as a toddler, child and teen – and her loved ones talking about what made her so special.
"Everything about her – was light. She was one of those girls that would just light up a room," Chelsea's brother, Tyler King, said in the video tribute.
On Feb. 25, those with the Chelsea's Light Foundation spread the light by putting sunflowers -- Chelsea's favorite flower -- on the windshields of cars parked at a shopping center in Rancho Bernardo. Each flower had a short, positive message tied to its stem.
Saturday's race was also filled with sunflowers, a little reminder of Chelsea's presence.