San Diego joined rallies across the country and even outside of the U.S. in supporting science Saturday. An estimated 15,000 people braved the hot weather and crowded streets of downtown to support environmentalism, medicine and other scientific research as well as concerns over the Trump administration's stance on science.
"I think you're probably going to see more stuff like this," Scripps Research Institute graduate student Colby Sandate tells NBC 7 while holding a sign that says 'Like facts and black lives science matters.' "Just kind of like more demonstrations and more scientists speaking their mind about their disapproval of where the current administration is going."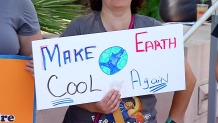 Stephanie Gaines, who also participated in the Women's March in January, says "it's important to have our voices heard. This is how we let of representatives know what's important to us as constituents. So we came out today to support science."
Her sign read 'Make earth great again,' a parody of Trump's famous campaign slogan. "We think American is already great, she says "We could do more to help the earth though."
She says locally we should make good choices regarding the environmental and let California lawmakers know that supporting science and research is important to the community.
"But what the administration can do is not diminish the funding for important departments like the [Environmental Protection Agency (EPA)], [National Institute of Health] funding , any sort of science –based funding," Gaines says. "We got where we are today because of science, so it's important that we keep those funds going and we keep that research going as well."
President Trump nominated Scott Pruitt as head of the EPA in December. Pruitt has been a vocal critic of the agency, as has sued them multiple times. In March, he said he does not believe carbon dioxide is a primary factor in global warming, a view which is at odds with almost all climate scientists.
Trump has also voiced doubts over the legitimacy of climate change, suggests via Tweet that "the concept of global warming was created by and for the Chinese." He has also embraced the discredited theory that vaccines cause autism. Medical experts overwhelmingly reject the idea, saying not immunizing children endangers public safety.
Trump's first budget request to Congress asked to cut the NIH by 20 percent, the Department of Energy's Department of Science by 20 percent, as well as cuts to National Oceanic and Atmospheric Administration, the EPA, NASA and the National parks Service.
"I would expect to hear from more of us," Sandate adds.