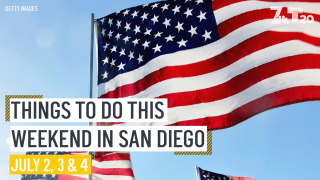 There's always something fun to do in America's Finest City. Our Weekend Events guide is here to help. Get up. Get out. Play!
What to Know
Our Weekend Events guide publishes each Friday on The Scene section of NBC7.com
Like our mission always, our guide will do its best to span the county -- north, south, east, and west -- to bring you fun, fresh and affordable things to do in San Diego
Follow @TheSceneSD on Twitter or here for the latest stories on things to do around San Diego
Saturday, July 2
'Spider-Man: Beyond Amazing'
10 a.m. to 6 p.m. (timed tickets); Balboa Park
Web-er or not you know your Marvel majors, you 100% are perfectly aware of Peter Parker, a not-so-ordinary young man who gained the powers of a spider six decades ago. Comic Con Museum is spinning a celebration, all to mark the 60th anniversary of the legendary superhero, with interactive installations, places to pose for a Spidey-style snapshot, and plenty of artifacts, including original art. Before you start scaling the nearest building, in search of a ticket, know that admission is timed, and your ticket gets you other Comic Con Museum exhibits. Details? Spin by this site.
San Diego County Fair
11 a.m. to 11 p.m.; Del Mar Fairgrounds
Squee-worthy piglets, turn-it-up concerts, homespun competitions, and the sort of frozen, on-a-stick treats that dribble deliciously onto your hand: This celebrated county fair is known for all of these sweet sights, and about a thousand things more. But there aren't a thousand hours still to go at this multi-week wonder, but rather just a few more days. Don't miss the midway, the games, magic shows, monster trucks, the Ferris-y fun, the wine tastings, the shopping, and all of the photo moments. The final day of the 2022 San Diego County Fair? Sigh: It all comes to a close on the Fourth of July.
San Diego Distilled Spirit and Cocktail Festival
12:30 p.m. to 4 p.m.; Del Mar Fairgrounds
Improving your at-home mixology skills takes some studying, some scrolling, some experimenting, and a few tastes, too, along the way (as well as a few trusty tools, some quality libations, and, oh yes, a bounty of limes and lemons on hand). This flavorful festival can also show a cocktail maven some of the best spirits around, and as well as several lauded labels. There's a cocktail competition, too, and other happenings, as well as a chance to chat with pros representing various spirits. A $35 wristband is good for five quarter-ounce pours and single-ounce pours of mixed cocktails. Shaken and stirred? Then check out the details now.
Free Summer Movies in the Park
Times and locations vary
We won't be able to bask in every starlit cinematic experience this summer, but seeing as how the first weekend of summer is now due, we want to really put some effort into finding pay-nothing, enjoy-a-flick evenings around the region. And there are two of those sublime and starlit evenings coming up, with "Encanto" screening at Potrero County Park and "Sing 2" at Poway Community Park. The full schedule, which is oh-so-lengthy, for the rest of summer? Oh yeah: Peruse and feel the free movie joy now. Good to know: There are free movies on Friday and Sunday, too, but do check locations and times.
Military Appreciation Weekend
11 a.m. to 4 p.m.; San Diego Model Railroad Museum
Watching a realistic locomotive, but one that is small enough to cruise around a tabletop filled with tiny trees, bite-sized buildings, and a whole world that's been crafted by hand? It's truly a pleasure, but one that we don't get to encounter often (true, the train under the Christmas tree gives us that thrill, but that's only once a year). You can call upon this Balboa Park favorite for some train-tastic fun, and enjoy complimentary entry, from July 1 through 4, 2022, if you're a member of the military. Good to know? You'll want to have your military identification handy and ready to show at the entrance booth. More details? Choo-choo in this direction now.
Sunday, July 3
3rd of July Gaslamp Pre-Independence Day Laser Show
4 p.m. to 10 p.m.; Gaslamp Quarter
We've become accustomed to bright lights ushering in our Independence Day celebrations, but those illuminations are most often seen in the sky, when fireworks pop-pop-pop above our heads. If you're looking for a different sort of light-up lark, consider swinging through the Gaslamp on the evening before the holiday, to experience a free-to-see laser show. Be on 5th Avenue for the spectacle, which will include "state-of-the-art digital graphics and awe-inspiring effects." And the beloved Budweiser Clydesdales? They'll be calling upon the district, too, but early. The mane info? It's right here.
Fossil Mysteries
10 a.m. to 4 p.m.; Balboa Park
Dinosaurs are ruling our dino-obsessed worlds, thanks to the recent release of "Jurassic World Dominion," but finding a place to connect with the ancient critters that once roamed where we now live can be a bit tricky. but not for San Diego Natural History Museum where "Fossil Mysteries" captivate visitors. "Abundant fossils, models, murals, and dioramas offer unique multi-sensory experiences" during your exploration, vows the museum site, and the chance to create a tale inspired by a dinosaur's life? That can happen, too, so cool. There are lots going on at The Nat, but start here to plan a treat for your household's dinosaur devotee.
Rooftop Cinema Club San Diego
Hours vary; Embarcadero
The Rooftop Cinema Club in the Embarcadero has a full film schedule, each and every weekend, with newer flicks and all sorts of throwback favorites. Its located on the 4th-floor terrace of the Manchester Grand Hyatt. Doors open 30 minutes before the screening. Food and beverages will be available on site. Showing on July 3? "The Lion King," "The Sandlot," and "Interstellar." A good plan? Do peruse the whole schedule before you go. Tickets start at $18.50. For more details, click here.
Nighttime Zoo
4 p.m. to close; Balboa Park
We've now reached the midpoint of the year, and we're ready to raise a roar. And if we can do so at a special animal-adjacent, one that goes a little further, and festively so, into a summer evening? We're all about it. With a holiday Monday on the horizon, a Sunday night visit to San Diego Zoo's seasonal party might be just the joyful ticket. But what can you expect at Nighttime Zoo? Wildlife performers, get-dancing music, an acrobatic Outback show, and plenty more. The activities, performances, and later-in-the-day delights are included with your zoo admission.
Monday, July 4
Independence Day Parades and Fireworks
​Times vary; Julian to the Bay
Sparkle, glitter, pop, dazzle: There will be so many marvels to behold on the Fourth of July, with the Port of San Diego Big Bay Boom!, brunch cruises, and nostalgic parades like the one clip-clopping through Julian on the calendar. Where do you want to go, what time do you want to celebrate, and are pyrotechnics part of your plan? Find all sorts of Fourth-fun go-outs around town. Happy Independence Day!