The woman accused of driving the wrong way on Fiesta Island and crashing into a group of cyclists, injuring many of them, appeared for a pretrial hearing Tuesday.
Theresa Owens, wore reading glasses on the top of her head and looked very different from her initial court appearance where she pleaded not guilty to a charge of felony DUI with injury and possession of a controlled substance.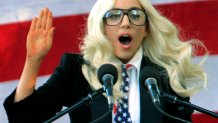 San Diego police said Owens was driving her vehicle on Fiesta Island Road around 6:30 p.m. on August 12 when her car struck about 10 cyclists in a larger group finishing up a training ride.
Six people went to the hospital with injuries, including Juan Carlos Vinolo, who was paralyzed.
After the crash, Owens was found to have a baggie of meth hidden in her vagina, a deputy district attorney revealed at her August 15 arraignment.
Images: Car Drives into Group of Cyclists on Fiesta Island
The preliminary hearing in the case was scheduled to begin Tuesday however the judge rescheduled it for Oct. 31.

[[271463611,C]]
If convicted, Owens could face a maximum punishment 12 years and eight months in prison.