Theatergoers heading to see Robert Askins' new play "The Squirrels" at La Jolla Playhouse should expect a very literal interpretation of the title.
There will be literal squirrels on stage, Tony Award-winning Director and Playhouse Artistic Director Christopher Ashley told NBC 7 during a break from rehearsals - and it's going to be hilarious.
"No one's going to go walk out of the theater and say, we saw a play just like this last week," Ashley said. "That didn't happen."
Askins, who many know as the Tony-nominated playwright of the comedy "Hand to God," makes his Playhouse debut with another comedy - this time, about those animals running up and down trees.
[G]'Wicked', 'Aladdin' and More: Broadway San Diego Announces 2018-2019 Season
When Ashley first read the script for the play, he said, his mouth fell open five pages in.
"He has a completely untethered imagination," Ashley said.
"There's a really unafraid, bold, theatrical imagination that I am delighted to produce," he added.
For the past few weeks, the cast of nine has been rehearsing in what the team calls "squirrel school." That means spending several hours at the start of every day learning and practicing how squirrels move, how squirrels sound and more.
And every day of rehearsal, Ashley said, the cast shows up ready to take it all on and become squirrels.
[[483237271,C]]
"(We have) this really amazing cast who, by the end of the day, are exhausted because they've been scrambling and learning new lines and chittering and barking and talking about contemporary politics," Ashley said. "It's this play that uses every bit of you as an actor."
Askins' play explores the conflict between a prominent Gray Squirrel family, who are lucky enough to have gathered a huge hoard of nuts in recent years, and the less fortunate Red Fox Squirrels, who don't have enough nuts but are larger in number.
But the play is about much more than just squirrels on stage, Ashley says, though that is what people will first notice. That, and a 24-foot high tree smack in the center of the stage as a set piece for the actors.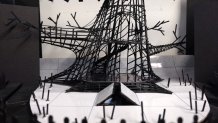 "The first thing is, 'oh my God they're actually doing a play about squirrels, that's wild,'" Ashley said.
As the play progresses, the audience will begin to notice the parallels with their own lives and the current political landscape: income inequality, race, leadership and cultural and political norms, with comedy in every scene.
"Then, as the play develops, you realize, oh, this is a play about us and this is a play about the world we live in," Ashley said. "But definitely, the play's got double vision. It's a play about squirrels in a tree, and it's a play about America right now."
It's a play about the consequences of not engaging and not paying attention, Ashley said, and how important it is to stand up and be heard. That's what Ashley hopes the audience takes away when they leave the theater.
"I hope that they think about what their part is going to be in the current moment, and what an important moment it is to vote, and to make your opinion heard," Ashley said. "In my opinion, this is not a moment to hang back, relax, and see what happens, this is a moment to engage."
"The Squirrels" runs from June 5 to July 8 at La Jolla Playhouse. Play by Robert Askins and directed by Christopher Ashley. Buy tickets here.