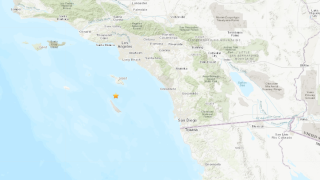 A computer glitch may have been the "non-earthquake event" that triggered the USGS ShakeAlert system and caused alerts to go out about an earthquake that never happened, but was felt across San Diego County.
The U.S. Geological Survey (USGS) issued a statement via Twitter:
"There could be a computer glitch," said Robert de Groot, ShakeAlert coordinator at the Pasadena field office.
De Groot added there are four seismometers distributed in the area on land, and that "four of those stations did the same thing." Meaning all four - two on Catalina Islan, one in Long Beach and another in Huntington Beach - were subject to the same noise glitch.
"Characterizing quakes in the water can be more challenging … We don't know the source of the noise but are going to find out," de Groot said.
"ShakeAlert is a balancing act between speed and accuracy. We want to be as fast as possible and accurate as possible. We're going to learn from this."
Around 9:48 a.m. Friday, the USGS reported on its website a preliminary magnitude 4.0 earthquake rattled off the coast of San Clemente. It also added on the site that at least 20 people reported feeling it.
Meanwhile, social media buzzed Thursday night with multiple residents reporting they felt an earthquake shortly after the Padres' home opener at Petco Park.
USGS stated a preliminary magnitude 4.6 earthquake struck near El Suazal at about 9:30 p.m.
That's about 62 miles south of Downtown San Diego, but people as far north as Huntington Beach felt shaking and reported it to the USGS.
The National Weather Service said Thursday's quake was not expected to cause a tsunami.
So far, no damage has been reported to the San Diego police, sheriff's or fire departments. Officials in Baja California said they're assessing the region for damage.
The Padres' bats were loud in their 12-1 win over the Braves, but the game ended about an hour before the earthquake.
Here's how some NBC 7 staffers reacted to Thursday's shaking.