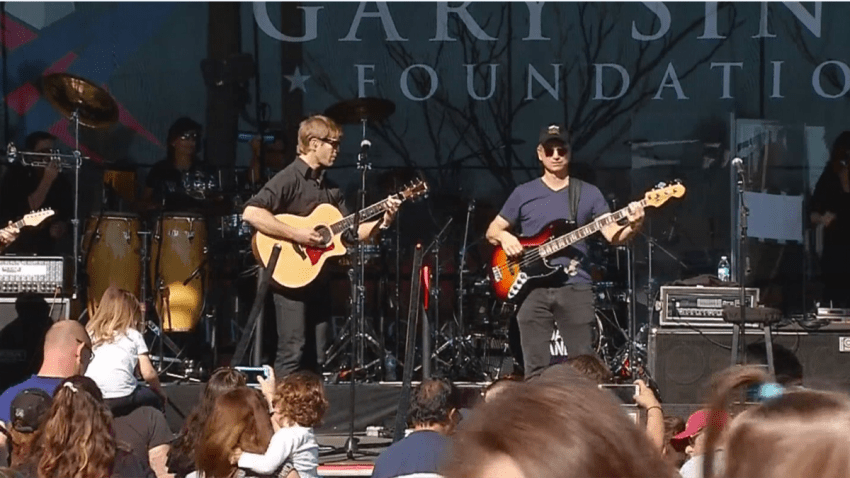 Gary Sinise, who has supported veteran's causes since Vietnam, performed with his band for a festival at Naval Medical Center Saturday.
Sinise plays guitar in the Lt. Dan Band, named for his role in the 1994 movie Forrest Gump. The band plays at three of four military festivals every year.
"I was making a patient visit, which I do quite often at our hospitals, and I was standing outside and I was about to get in the car to take off and I said to the admiral, you know, I bet we could put a stage right here," Sinise said about the inception of the festival. "We could bring some food in, kind of get everyone out of the hospital and have some fun and do something, and he loved the idea, so we put that together and that began this festival circuit we're on."
Thousands of wounded vets and their families gathered for the fourth annual Invincible Spirit Festival for a day of music, food, and inspiration.
"Lots of people having fun and enjoying themselves," Sinise said of the festival. "That's what it's all about just making sure our military knows we appreciate them we're not forgetting what they're going through and we want to give them a good time."
Sinise and celebrity chef Robert Irvine hosted the event honoring the work of the navy medical staff for wounded service members.
"Naval Medical Center is a wonderful hospital. The military hospitals that I've been to, and I've been to many of them, that medical system is doing very well by our wounded. If I was hurt I'd want to be in one of our military medical centers."
Sinise, who began working with veterans in the '70s during Vietnam, said after service members started coming home from Iraq and Afghanistan it brought back memories of the hostile way soldiers were treated when they returned from Vietnam, reinforcing his interest in making sure that never happened again.
"Thankfully the hospitals have fewer that are coming in fresh off the battlefield the way it used to be, but there are ongoing residual effects that our wounded are going to be facing for many, many years to come."
For his active involvement with wounded troops and the USO, some have called "The New Bob
Hope.
"For me, military, I've just been around it my whole life. I have military in my family," said said about why veteran's causes are so important to him. "Some of our military has just seen some things you and I will never see."