The Chargers met with the NFL late Tuesday night, trying to hammer out details of their option to move to Inglewood with the Rams. After that meeting, and a follow-up meeting early Wednesday morning, Chargers owner and Chairman Dean Spanos still does not know what he's going to do.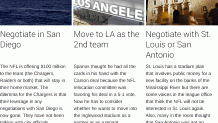 The NFL presented the framework of an agreement to the Chargers that included multiple options for playing in Rams owner Stan Kroenke's new stadium, including both lease and equity possibilities. The Bolts are still trying work out details and negotiate terms.
Chargers Special Counsel Mark Fabiani told NBC 7 SportsWrap the meetings went "Very well." I believe that's the way Fabiani described every meeting with every entity that did not involve a San Diego political figure in the last year.
Dean's son A.G. Spanos, the Chargers' president of business operations, said the Chargers are deliberating while weighing their options and "We're still crunching the numbers."
The dilemma for the Chargers now is a lack of leverage in negotiating. They know they're the second team in to Los Angeles but can't use that against San Diego because Mayor Faulconer and Supervisor Roberts have already said, in no uncertain terms, that they're willing to work towards a new stadium solution but only if Spanos simply says no to L.A.
Time is of the essence in this situation. If the Chargers choose to move to L.A. they need to start the process ASAP so their players and personnel can start the off-season training program and the front office can set up a home base of operations.
If the decision lingers too long it could put preparations for the 2016 season in jeopardy, not the way you want a 4-12 football team to start off.
When asked what he really wants to do, A.G. Spanos said he'd rather stay in San Diego. "We're $100 million closer, so that's a step in the right direction," he said.
Now we have to see if his father feels the same way.