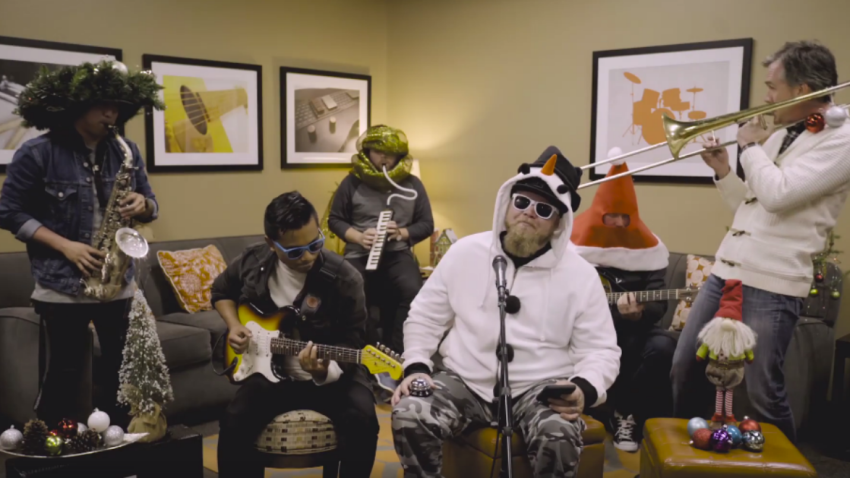 Deck the halls with boughs of holly -- and don't forget the Bieber.
On Wednesday, Dec. 21, members of the EastLake Church (2355 Otay Lakes Road) worship team took aim at the difficult-to-shop-for people of the world with a video mixing the music of Justin Bieber's "Love Yourself" single with lyrics derived from rather lackluster gift-giving experiences.
While it's tempting to take the video seriously (after all, who hasn't had to buy a gift for the person who returns everything?) -- the group's comical breakdown halfway through the song (and the guys wearing bizarre holiday decorations in the background) proves it's all in good fun.
While the talented team tackles the not-so-serious subject matter with lyrics like "No, you didn't seem impressed at all / When you tore off the wrapping paper / And you saw what I bought / Didn't like what you got" -- it should be noted that later lyrics prove that the offended gift-buyer knew he could've done a bit better too: "I guess the dollar store is way below your style / I missed the Santa mark by more than a mile." Guess it takes two to tango, eh? (Also, we're probably putting way more effort into analyzing these lyrics than we should.)
The moral of this Bieber holiday classic? Don't be one of those people perpetually ungrateful for the gifts you receive. Better yet -- focus instead on the 'giving' part of the whole thing. That's what it's all about anyway.
And hey, if you can't do that -- maybe you should go and re-gift yourself.