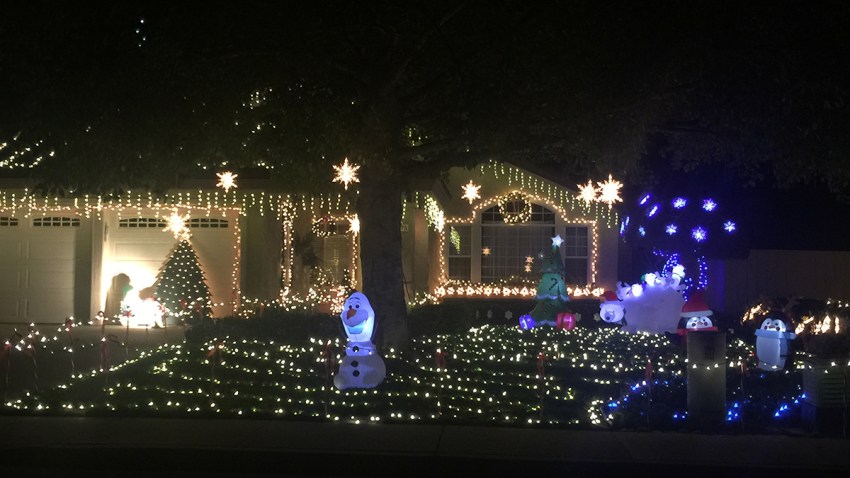 'Tis the season for twinkling lights and, in San Diego, there's no shortage of neighborhoods spreading the holiday cheer. Here's a look at some of those standout streets filled with beautiful holiday light displays.
Belardo Lights
Tierrasanta
"Belardo Lights", tucked in Tierrasanta, off Via Valarta at Via Playa De Cortes, includes a dazzling display of more than 100,000 lights and decorations, animated to music. You can listen from inside your warm car as you slowly drive through this neighborhood. The lights are up nightly through Dec. 26, from 6 p.m. to 10 p.m.
Jingle Bell Hill
Santee
"Jingle Bell Hill," formally known as Pepper Drive, is also a good stop for holiday lights. Located in Santee, off State Route 67 and Bradley Avenue, these merry and bright lights run through Dec. 26, from 6 p.m. to 9 p.m. Monday through Thursday, and 6 p.m. to 10 p.m. Friday through Sunday.
Christmas Card Lane
Rancho Penasquitos
A San Diego favorite, Christmas Card Lane, located in Rancho Penasquitos off Black Mountain Road on Oviedo Street, runs through New Year's Eve, from dusck until 10 p.m. daily. Details on the holiday magic happening in this neck of the woods can be seen here.
Christmas Circle
Chula Vista
The glimmering lights shine bright in Chula Vista, in the community's "Christmas Circle," which is celebrating its 59th year of decking out more than 55 homes between First and Second avenues, off H Street and 1st Avenue. The lights are up Dec. 10 through Dec. 26, from 5 p.m. to 10 p.m.
Fairway Village
Carmel Mountain Ranch
Carmel Mountain Ranch is also spreading some holiday magic of its own through Fairway Village, on the east and west sides of Stoney Gate Plaza. There, 80 homes are decked out in Christmas spirit from Dec. 10 through New Year's Day, with the lights on from 5:30 p.m. to 10:30 p.m. daily. For more on all the fun happening in Fairway Village click here.
Candy Cane Courts
Poway
From Hickory to Butterwood courts and Rockrose Court, the culdesacs in this community are something to see. Off Twin Peaks Road & Silverset Street, this display runs from Dec. 10 to Christmas Eve, from 6 p.m. to 9 p.m. daily.
Starlight Circle
Santee
In the East County, this massive lights display known as Starlight Circle draws crowds year after year. Located on Tomel Court, off Magnolia Avenue, visitors can see elaborate, handmade Christmas displays spanning dozens of homes. Sometimes the residents will sell hot cocoa and other holiday treats for visitors to enjoy as they stroll the neighborhood. This show runs Dec. 17 to Dec. 26, from dusk until 10 p.m.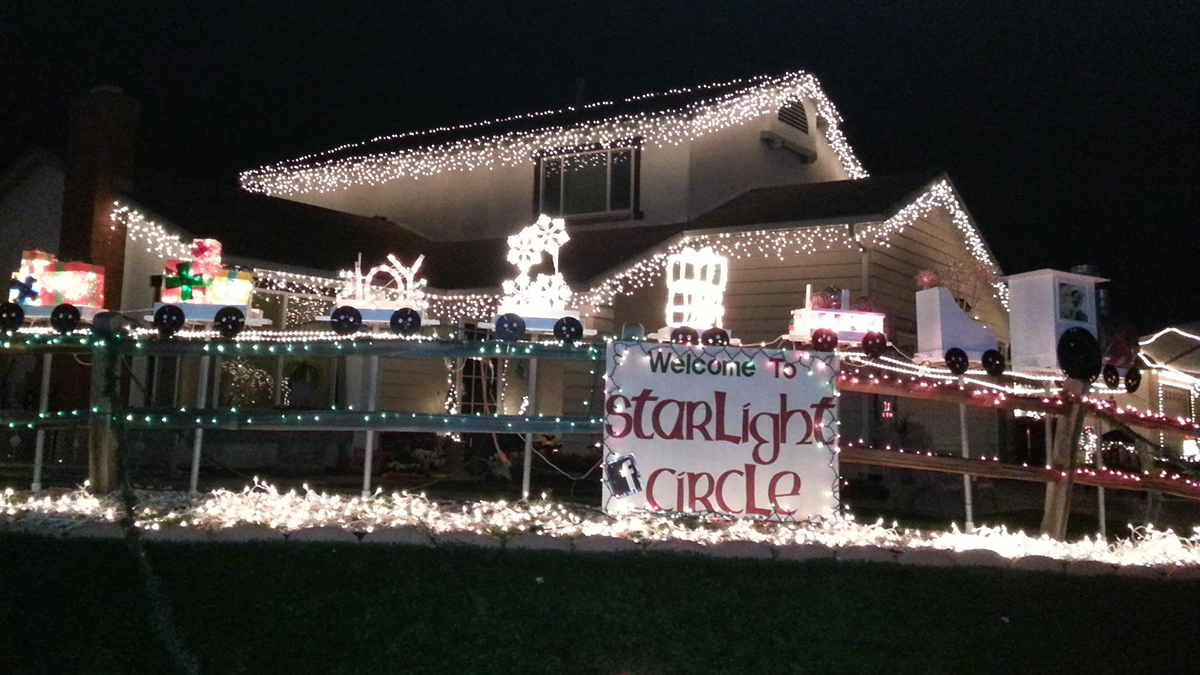 Christmas Display in Carlsbad
Carlsbad
In the North County, head over to the 6600 block Elegant Tern Plain for a night of lights, treats and Santa's mailbox where Santa will write back a free personalized letter to each child. The fun runs through Christmas Day, from 5 p.m. to 10 p.m.
The Forward House
Bankers Hill
Built in 1905 for Mayor John Forward Sr., The Forward House lets you experience all the sights and sounds of the holiday season. Located on First Avenue and Ivy in Bankers Hill, the decorations are up through New Year's Even, from 5 p.m. to 10 p.m.
Garrison Street Lights
Point Loma
"Garrison Street Lights" are another San Diego favorite. Located off Rosecrans and Garrison streets, the entire block is filled with lights. This display runs through New Year's Eve, from dusk until 10 p.m.
This is just a sampling of some of the holiday light displays in San Diego County. Share details of your favorite neighborhood for these kinds of displays in the comments section below.