A new restaurant specializing in Brazilian fare – mainly artfully flame-roasted meats carved tableside – opens in Carlsbad this week, the third location of this particular brand's kind in California.
Texas de Brazil Churrascaria, a Brazilian-American steakhouse, opens Wednesday at 5 p.m. sharp at The Shoppes at Carlsbad (2525 El Camino Real, Suite 101). This marks the chain's 61st eatery; the company has locations across the U.S. including Florida, Texas, Michigan and Tennessee.
The menu at the steakhouse revolves around the longtime Brazilian tradition of churrasco-style grilling, in which meats cooked over natural wood charcoal take the scrumptious spotlight. Cuts include picanha (sirloin), lamb chops, filet mignon, leg of lamb, Parmesan-crusted pork loin, bacon wrapped chicken breast and more.
The eatery also features "rodizio-style," an all-you-can-eat set-up seen often in Brazil. To that end, patrons can help themselves to a never-ending, 50-item station featuring fresh salads, artisan bread, imported cheeses, sushi, sautéed veggies, and other hot and cold specialty dishes. Moqueca – Brazilian coconut fish stew – can also be found on the rodizio rounds. Meals can be topped off with desserts served a la carte, including flan and Brazilian cheesecake.
The rodizio-style model means the dining price is fixed unless you add desserts or drinks. Regular adult meals are priced at $47.99, with meat, or $29.99 for the salad bar only. At lunchtime, that price includes one dessert and unlimited soft drinks. Kids under 2 eat free with a paid adult while dining for kids ages 3 to 5 costs $5. Kids ages 6 to 12 get 50 percent off an adult meal price.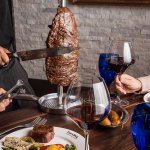 So, here's how the dining set-up at the Carlsbad eatery will work: in addition to the self-serve salad bar, patrons will find a two-sided disc at each table, colored green on one side and red on the other. With the discs turned to green, "gauchos" – or waiters – will walk by tables carving meats tableside. When patrons need a little break from feasting, they can turn their discs over to the red side.
According to the chain, the color-coded system is meant to fit any timeframe, including long, leisurely dinners with family or friends or quicker business-type meals.
Over at the bar, there, of course, will be plenty of wine including varietals from California and South America. Texas de Brazil pours an exclusive private label selection as well that is bottled in Chile, a country renowned for its wines. The bar is also pouring crafty creations including Brazil's national cocktail: the Caipirinha.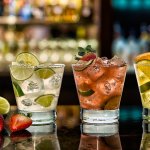 The Carlsbad location will be open daily for dinner starting at 5 p.m. Monday through Friday and 3:30 p.m. Saturday and Sunday. On weekends, it's open for lunch from 12 p.m. to 3:30 p.m.
Texas de Brazil was founded in 1998 in the Lone Star State. Today, it's billed as the largest Brazilian-American steakhouse brand in the world, with eateries in 21 states and seven countries.
The eatery joins other Brazilian influenced restaurants in San Diego County including Fogo de Chao Brazilian Steakhouse and Rei Do Gado Brazilian Steakhouse, both in downtown San Diego, Brazil by the Bay in the Midway District, and Pampas Argentine Grill in Kearny Mesa, to name a few. There's also Empanada Kitchen in downtown's East Village, which was recently named by Yelp among the top 100 places to eat in the U.S. in 2019.