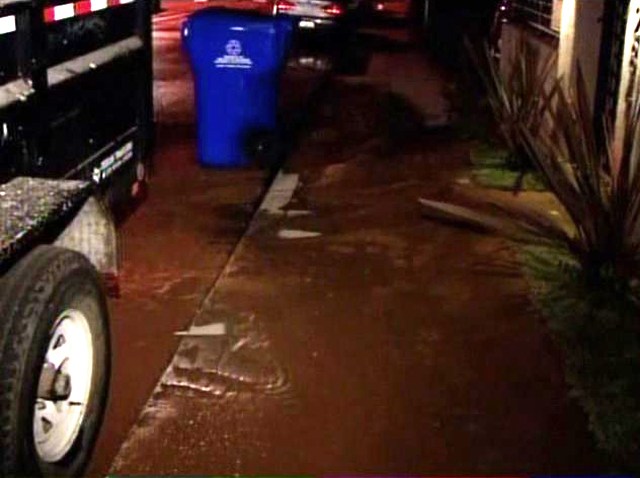 A water main break flooded several homes in North Park, leaving more than a dozen residents without water and some without a place to stay.

Water officials say the 8-inch iron cast pipe ruptured at Boundary Street, between Palm and Olive.

Homeowner Anthony Forte began cleaning up the muddy mess early Thursday morning after a water main sent water gushing through his property. By daylight, the extent of the damage was clear. A cinder block retaining wall toppled and his pool was filled with mud and debris.

"It was probably about four to five inches of water flowing at 20 miles an hour," Forte said.

Next door, Darren Royster says the rushing water woke sleeping tenants.

"All of a sudden water just started coming out of the ceiling right in his face," the homeowner said.

Both of the properties he owns on Boundary Street were damaged.

"It was Niagara Falls here. Tenants were trapped in the house," Royster said.

This isn't the first time this has happened.

"It will be seven times in a five year period," the homeowner said.

Royster says he's facing foreclosure, because he's lost so many tenants due to flooding and can't afford to pay for repairs and two mortgages without help. Seven of his renters will have to find somewhere else to stay. He's also concerned about the potential of a landslide because his property sits on a canyon and the ground appears to be buckling.

"My worst case scenario is that my house will drop into the ground like what happened in La Jolla," Royster said.

Water officials say displaced residents will be reimbursed and they'll work with homeowners to file claims with the city for repairs.

"There will be an investigation to see how much damage was done and then we'll work with them to get paid," San Diego Water Dept. spokesperson Arian Collins said.

Water officials say an old, corroding cast-iron pipe is to blame.