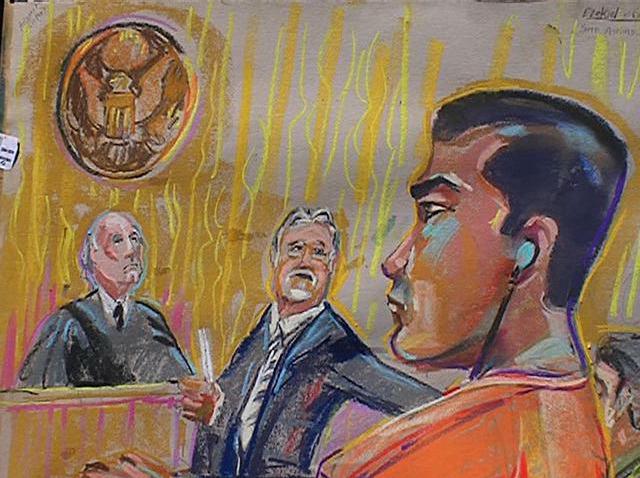 In an emotional courtroom hearing packed with weeping relatives of the victim and dozens of uniformed Border Patrol agents, a 17-year-old Tijuana youth was sentenced Thursday to 40 years in federal prison.
Christopher Daniel Castro Alvarez pleaded guilty to taking part in the murder of Agent Robert Rosas along the border near Campo last year.
Sobs and gasps of anguish could be heard from the opposite side of the courtroom as Rosas' widow Rosalie and two sisters described what they called the "devastating" emotional impact of the agent's murder.
"It is not fair to have someone killed the way my husband was," Rosalie Rosas told the judge. "Forty years is nothing compared to the loss we have and will continue to suffer."
The agent's widow said that on the 23rd of every month since Rosas was killed, that she and her 3-year-old son Robert Matthew, and 16-month-old daughter, Kayla Allysa, visit a cross marking where Rosas died.
"Are we going to see Papa?" Rosalie said the boy asked on each visit.
Rosas, 30, died of multiple gunshot wounds to the head in a struggle over his weapon after Castro, and two accomplices who are still at large in Mexico, jumped him along the Shockey Truck Trail around 9.m. July 23, 2009 amidst a robbery attempt.
"This [murder] continues to be a nightmare for me. It has left a large void in my heart," Rosa's sister Sylvia Rubio said tearfully.
Prosecutors say Castro fired at least one shot, and was wounded in the hand himself, after holding Rosas at gunpoint with the agent's weapon until Rosas resisted and Castro's accomplices began firing weapons of their own. DNA from a blood trail from the murder scene tied Castro to the crime, and he surrendered to U.S. authorities last November as part of a plea bargain.
"[His loss] has shattered me in many ways... thinking of his last minutes tears me apart," another sister, Arlene Brambila, said.
U.S. District Judge M. James Lorenz rejected a 30-year sentence requested by Castro's attorney.
"This offense is incredibly serious... a cold-blooded killing," he said. "It has changed the dynamics at the border."
Judge Lorenz said Border Patrol agents now have to question whether they'll be ambushed instead of extending aid to illegal immigrants who may need help.
Castro kept his head bowed as he sat at the defense table, yards away from his family members seated behind him, throughout the hour-long proceeding.
"Danny Castro lives with every day and night ... he suffers deeply ... he is very remorseful" Castro's attorney, Ezekiel Cortez, told the court. "If he could allow himself to be killed by the other two [accomplices,] he would."
Outside U.S. District Court after the hearing, Shawn Moran, vice president of National Border Patrol Council Local 1613, called his line of work "the most dangerous job in law enforcement", and said he doubted Castro's 40 year-sentence -- imposed under court guidelines -- would be an effective deterrent.
"I don't think the cartels care," Moran told reporters. "I think we're at a tipping point on the border ... if this was an FBI agent that was murdered in the line of duty, I guarantee you this sentence would have been far stiffer."
Copyright AP - Associated Press