Jurors who convicted an Escondido teenager last week of first-degree murder for beating his friend to death and posting the sound of his victim's cries on Snapchat also found the teen to be sane at the time of the crime.
The determination was made during the sanity phase of the trial.
Alfuraiji, 20, was last seen alive on April 27, 2017. He was beaten to death and dumped in a remote area of San Diego County, according to Escondido police.
The victim's friend, Salvador Sanchez, bragged on social media that he was responsible for Alfuraiji's death.
One year later, Sanchez was convicted by a jury despite the defense's claim that he was not guilty by reason of insanity.
The same jury found Sanchez sane at the time of the murder.
Sanchez and Alfuraiji met on April 27 at Mountain View Park to smoke marijuana and drink alcohol. They talked about the car accident Alfuraiji had experienced that morning and Sanchez expressed frustration that he was a high school graduate who was mowing lawns, an investigator testified.
At one point, Sanchez challenged Alfuraiji to fight to the death, investigators said.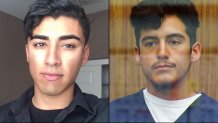 Sanchez was a champion wrestler at Escondido High School and described using some wrestling holds in the fight with the victim, O'Donnell said. He described using a "double trouble" and a "cross face" to get the victim to the ground, police said.
The initial fight was two to three minutes and after that Sanchez told police he held Alfuraiji's face to his chest for about a minute. After that, the defendant could not find a pulse on the victim, police said.
Sanchez was contacted by Escondido homicide investigators by phone and told them about the crime. He told them he followed the "ride or die" creed from the movie "Fast & Furious." Investigators believe that may have been the motive behind the killing.
"He has a creed based on the movie series 'Fast and Furious' of "ride or die" so you have to be loyal to him to the end including death," Escondido Police Det. John O'Donnell said in a pretrial hearing. "He said he lived that creed among the crew or squad he was part of."
Police gathered evidence against Sanchez that included audio and images posted to Snapchat, white clothes found covered in the victim's blood and a statement from a friend who helped transport the victim's body.
Sanchez kept the clothes he wore that night on a shelf in his closet. A hoodie, T-shirt, shorts and tennis shoes all were white and all had blood on them, police said.
The defendant told police he kept the clothing in his room because he wanted them for trophies.