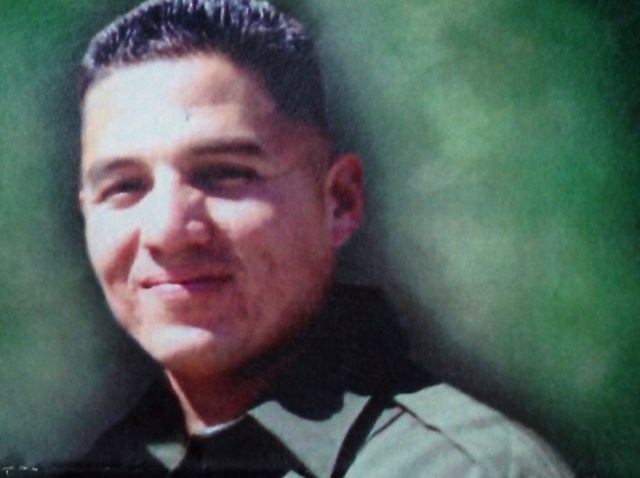 A 17-year-old admitted his role Friday in the murder of an agent shot eight times in July.

The U.S. attorney's office in San Diego said Christian Daniel Castro-Alvarez entered the plea Friday in federal court. The teenager admitted entering the United States illegally from Mexico to rob a Border Patrol agent of government property, according to prosecutors.

Border Patrol Agent Robert Rosas was shot four times in the head the night of July 23 near Campo, east of San Diego. He was also shot once in the neck and three times in the torso. Authorities said Castro-Alvarez lured the father of two young children out of his car and struggled with him over a firearm.

On Friday, Castro-Alvarez pleading guilty to one count of murder of a federal officer in the commission of a robbery. He faces a maximum sentence of life in prison.
Outside court, Castro-Alvarez's lawyer, Ezekiel Cortez, stressed that his client is "deeply, deeply remorseful" about what happened. Cortez said the murder was "a tragedy for everyone" and noted that his client was shot in the hand himself during the scuffle.

Cortez urged reporters to pay close attention to the language of the plea agreement, which says that "Agent Rosas was shot multiple times by defendant and one or more of the co-conspirators." Also, the plea agreement gives Castro-Alvarez credit for accepting responsibility for the crime,for surrendering voluntarily and volunteering to be tried as an adult.
In the wake of the killing, rewards totaling $360,000 were offered for information about the case.
"Border Patrol Agent Robert Rosas was killed in the line of duty bravely protecting our border," U.S. Attorney Karen P. Hewitt said in a statement released Friday. "Our nation owes him and his family a great debt of gratitude for his ultimate sacrifie in service of our country."

Officials said Castro-Alvarez is due back in court for sentencing on Feb. 19.
Copyright AP - Associated Press