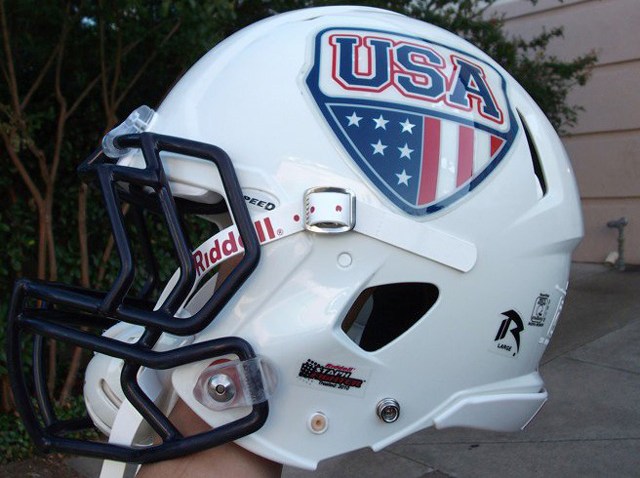 This isn't soccer, but women's American football; The Women's World Championship of Football is underway in Stockholm, Sweden and two San Diegans are apart of the historic event.

This is the very first tournament of its kind and San Diegan Melissa Gallegos and Temecula's Desiree Weimann are there, as part of a 45 woman squad selected to represent the United States on Team USA.
"We are having the time of our lives," Gallegos said.
The week-long tournament is hosted by the International Federation of American Football features six national teams from the United States, Canada, Finland, Sweden, Austria, and Germany.
In the first game of the tournament, the USA claimed the first victory of the championship beating Austria a whopping 63 to 0 on Sunday. Team USA dominated the competition. Austria held USA at 7-0 for the first few minutes of the first quarter, but touchdown after touchdown it became obvious USA was unstoppable. Gallegos, a quarterback for Team USA, threw a 14-yard pass to an uncovered receiver in the end zone. By the end of the first half, USA was up 42 points.

"I'm pleased with the win of course," said Team USA head coach John Konecki. "We tried to stay balanced with our running and passing game and took what the defense gave us. We came out slowly, but soon found our rhythm."
Gallegos and Weimann both play for the So Cal Scorpions women's tackle football team based here in San Diego. Gallegos, who lives in Eastlake, has been the quarterback for the Scorpions for seven years. During the 2010 season, Gallegos had 1,941 passing yards.
Weimann, a funeral director, is a mother of three and has played football since she was a child. A natural-born athlete she also played college-level basketball for UNLV.
Team USA was selected from the 1800 women playing in the Independent Women's Football League, which has 52 teams across the United States and Canada.

2010 IFAF Women's World Championship schedule
Sunday, June 27, 2010
1pm USA 63 Austria 0
6pm Sweden vs. Canada
Tuesday, June 29, 2010
1pm Finland vs. Austria
6pm Germany vs. Sweden
Thursday, July 1, 2010
1pm Canada vs. Germany
6pm USA vs. Finland
Saturday, July 3, 2010
11am Fifth Place game
3pm Bronze Medal game
7pm Gold Medal game