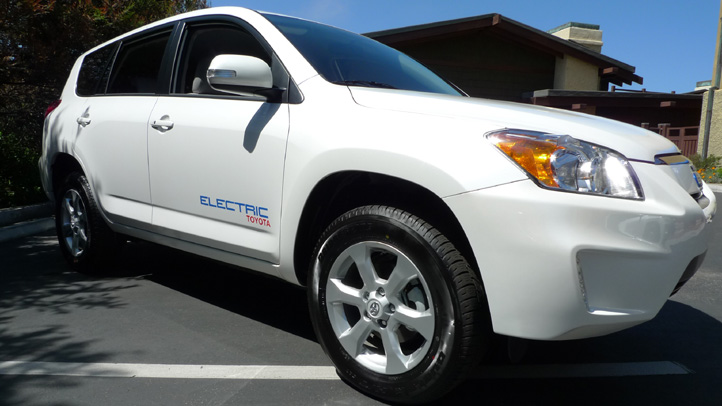 San Diego gets another glimpse into the future of driving -- a popular SUV that doesn't run on gas.

The all-electric RAV 4 prototype hit the highway in La Jolla on Monday for an exclusive preview and NBC San Diego got to be behind the wheel.

The second-generation SUV won't be ready for the car lot until 2012. But it's already generating a buzz.

"You'll find a significantly more robust vehicle here," said Sheldon Brown from Toyota.

More robust, because when you look under the hood, you see that Toyota forged a unique partnership with the Silicon Valley based Tesla Motors.

"Where we have a strength in production and production processes, they have a strength in technology and bringing technology to market. So we see that as a good opportunity to learn from each other and bring those cultures together," said Mary Nickerson from Toyota

They're bringing together a full feature SUV with push button transmission and a side-opening back door with plenty of cargo space.

So where's the battery?

"Basically your battery will be packaged below the vehicle, underneath the floor, between the front wheel and the rear wheel" said Brown.

You can actually see it hanging below the car, giving it a somewhat lower profile. But the Tesla motor and battery seems to make a big difference in performance.

You would think an electric car would gradually pick up speed. You'd be surprised with this one. They say it drives like a V6 and it does have a lot of power.

"That's longer range from the bigger battery and more torque so you have a lot more performance," said Nickerson,

Toyota says the RAV4 EV will run between 80 and 120 miles on a full charge. It's being made in Canada right now and probably won't be on the car lot until Spring of 2012.

The first generation all-electric RAV4 was powered by a nickel-metal hydride battery pack. This one comes with the Tesla engineered Lithium Ion Battery. They say it gives it a lot more power.
Toyota has not yet announced how much the RAV4 EV will cost.