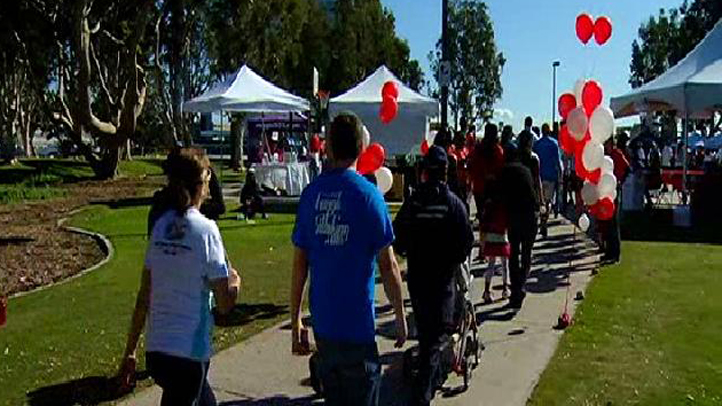 Warm sunshine greeted some 800 walkers and runners on Sunday for the 10th annual "Fight for Air" 5-K walk along San Diego Bay. However, right up until dawn broke bright and sunny, many were worried about the weather.
Would it be a repeat of yesterday's stormy Saturday? Not a chance.
Instead of hoisting umbrellas, the big crowd showed up at Embarcadero Marina Park-South with smiles plastered on their faces, along with a big dose of sunscreen.
The 3.1 mile course started at the park behind the San Diego Convention Center, wound around through Seaport Village, up to the Midway Museum and back again.
Leading the way was the event's largest team, the black-shirted members from SDG&E who raised about two-thirds of the $150,000 on their own.
The money will be used by the local chapter of the American Lung Association for research, education, support of those with the disease and the effort to prevent lung problems by making the air we breath, cleaner and safer.
The San Diego Fight for Air Walk was the most successful in the entire state this year.