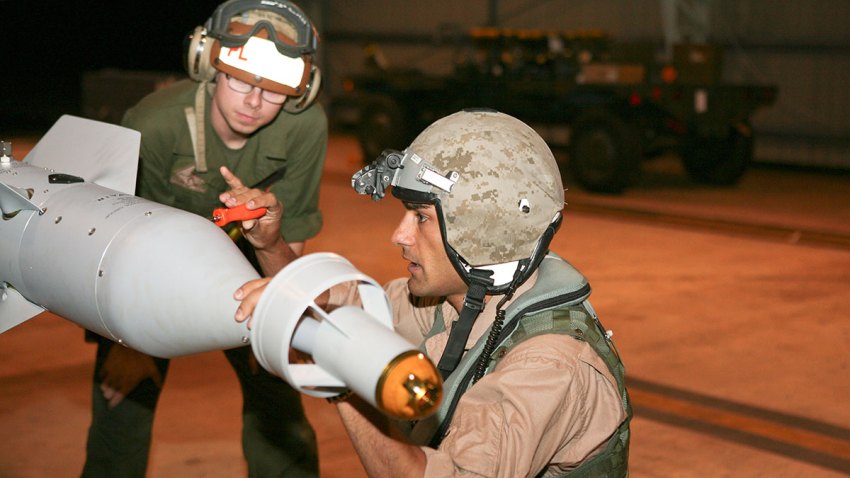 The father of a San Diego-based Marine killed in a fighter jet crash in England said his son was a "man among men" who was inspired to become a pilot by the movie "Top Gun."
Maj. Taj Sareen, 34, died Wednesday when the F/A-18C Hornet he was flying crashed near a U.S. base in England. The cause of the crash is under investigation.
Kulbhushan Sareen spoke with NBC 7 Thursday, recalling how his son first spoke about flying the high-powered aircraft after he saw the movie starring actor Tom Cruise as "Maverick."
"He had enough discipline to achieve it. He went for it," Kulbhushan Sareen said.
Taj Sareen was even scheduled to attend the Navy's pilot training center in January, his father said.
Taj Sareen was a pilot with a pilot in Marine Fighter Attack Squadron (VMFA) 232, stationed at Marine Corps Air Station Miramar. He was deployed as part of Special Purpose Marine Air-Ground Task Force Crisis Response Central Command 15.2 and was returning with his squadron after a six-month deployment at the time of the crash.
A native of Hillsborough, California, Taj Sareen was deployed to Afghanistan in 2010 and became an instructor at Marine Fighter Attack Training Squadron (VMFAT) 101.
Taj Sareen loved living in San Diego and was planning on buying a home in Encinitas when he returned, his family said.
Taj Sareen was on his third deployment when he crashed. His father said his son accomplished everything he set his mind to – so much so, that he grew to look up to his son.
"He lived his life the way he wanted to," he added.
"When he was growing up, he used to watch and observe me. When he grew up he became so good that I started watching and observing him and trying to emulate him," Kulbhushan Sareen said.
Kulbhushan Sareen said he didn't sleep the night after learning of his son's death but said he didn't cry.
"Every thought that came to my mind was happiness, joy, being proud of him. And that was the kind of person he was," he said. "If he walked into a room, it was like joy walking into a room."
MCAS Miramar released a statement saying, "Our thoughts and prayers are with the family, friends and fellow Marines of Major Sareen, and we are currently providing support to those affected by this tragic incident."