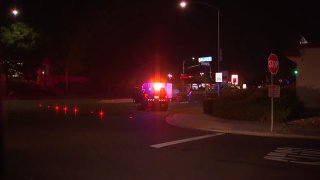 Police are searching for a driver suspected of hitting a cyclist and moving the cyclist's body before driving away from the scene in Rolando Tuesday night.
The San Diego Police Department responded to an area near the intersection of University Avenue and Alamo Drive around 7 p.m. and found the cyclist injured.
After hitting the cyclist, the driver allegedly got out of their car and moved the injured cyclist into the street before driving away, according to investigators. The Prius was last seen northbound on Aragon Way.
The cyclist, described as a 45 to 50-year-old man, was taken to a hospital and later died, SDPD Officer John Buttle said.
SDPD located the suspected vehicle, a red Toyota Prius, near the 6800 block of El Cajon Boulevard but no one was inside. As of 11 p.m., the suspect had not yet been found.
No other information was available. Anyone with information can contact SDPD or call Crime Stoppers at 888-580-8477.